A+ Tutorsoft, Inc. Company Provides Multi-Sensory interactive complete math program for 1st-6th grade and also Pre-Algebra and Algebra 1 as well. Each of the lessons offers visual, voice, and text instructions making the program great for many learning styles. Some of the features A+ Tutorsoft, Inc. Company offers to you are their printable worksheets, printable exams, solution guide which gives you step-by-step instructions on how to solve the problems, and so much more.
We have been given the opportunity to review the A+ Interactive Math 3rd Grade Homeschool Edition
with Anthony for over a month now and have been given a full year subscription to the online Homeschool Edition. Anthony was very exited to be able to try a math program that he can do the work on the computer instead of writing since he is one of my kiddos that doesn't like to write that much.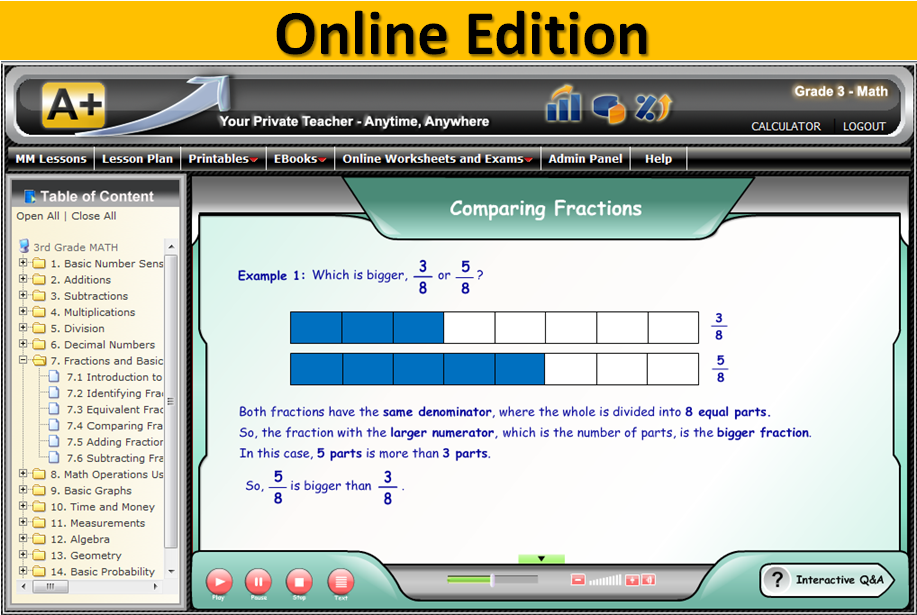 There are 15 chapters in the
A+ Interactive Math 3rd Grade Homeschool Edition
program the chapters are listed below. For the complete 3rd grade table of contents or the table of contents for any of their other grade levels visit
the A+ Tutorsoft website
. Within each of the chapters there are lessons, each chapter has an average of chapters of 6-12 lessons depending on how many areas there are to cover within each given chapter.
Basic Number Sense
Additions
Subtractions
Multiplications
Division
Decimal Numbers
Fractions and Basic Operations with Fractions
Math Operations Using a Calculator
Basic Graphs
Time and Money
Measurements
Algebra
Geometry
Basic Probability
Word Problems and Problem Solving
The program allows you to choose any lesson to start with, making it very nice for parents needing help with just certain topics, we decided to start on the first lesson and continued on from there. Once your child has logged on for the day they click on the lesson they want to do, and then start by watching a video of the topic being discussed for the day. During the video, they follow along with the text on the page, and the lesson is read to your child after they have finished reading the lesson, they then do a few example problems to really give your child a chance to understand the concept.
Once your child has completed the video they move onto the interactive "Q & A" portion of the program where they are asked question about the video they just watched and given multiple choice answers to choose from. When they get an answer correct a smiley face comes on the screen giving them a thumbs up. When they answer an answer incorrect they go back and explain how you find the answer to the question and then have them try to answer the question again.
When your child has completed the video and the interactive "Q& A" they move onto the worksheets, you have the option to print these out or to have your child do them online. In this section children will read the questions and choose the answer from multiple choices. They also offer online and printable exams which are like tests that check after each chapter to see how well your child retained the information from the lesson. The exams are timed at 50 minutes and have 25 question.
They offer so many resources, most of which you are given the option to use them online as an interactive page or to print out and write the answers. The offer printable lesson plans for the student/ teacher, printable worksheets and exams, certificate of accomplishments, they even offer the lesson book for you to print out if you want to.
What did we think of A+ Interactive Math Online Homeschool Edition?
A+ Interactive Math Online homeschool edition
has been a wonderful program for us to use. Anthony has been so happy about not having to write out his math and use the computer instead. The lessons were on the shorter side covering only the materials needed for the day, on average it would take Anthony only about 15 minutes to complete his lessons. I was not worried about the fact the lessons were short, because the program covers such a wide range of topics I know he will be learning all the skills needed.  I like the fact that they give you lesson plans so you know exactly what your child should be doing and when, this was especially helpful at first while learning what all the program contains and what he should be doing each day.
I think this program can be used as a full math curriculum for children, with the fact that they offer multi-sensory (see, hear, & reading) it makes the program great for many different children. I will say though that there are a couple of my children who have to read out of a book and write all their answers that I don't think this program would be so good for. So if your chid feels more comfortable having the words in a book in front of them and writing the answers on paper this program probably wouldn't work good for them, now they do offer all their worksheets to be printed off so if they can deal with watching the lesson on the computer and the doing the worksheets on paper it might work for some.
One of the things that we have had some difficulty with is the fact that during the online worksheets there a a lot of buttons at the top of the page and there is no clear instructions in which the student clicks when they are finished. This was confusing to Anthony at first, but once he figured out what buttons to click within this area it was fine.
Overall I would recommend this to any parents, especially parent that have kids who enjoy using the computer or do not care to write out more then they have to. It is a very through program that covers all the key areas, it offers children 3 different ways to "get" the material by offering seeing, hearing, and reading for each lesson making this a truly multi-sensory program! With the special discount they are offering of 50% through the month of March it also makes this program very affordable options for parents.
What is the Cost of A+ Tutorsoft, Inc.?
You have a couple different options when purchasing
A+ Tutorsoft, Inc.
They offer the online edition where your child can log on from any computer that has internet access, they also offer a CD version of the program so you can access the program when ever you want just using the CD.
Monthly- $19.95 Pay every month for a subscription.
Yearly- $99.99 Pay once a year.
CD
Regular Edition-   $99.99
Premium Edition- $124.99
**SPECIAL DISCOUNT**
Through the month of March they are offering us a discount to pass onto our viewers for 50% off when entering the code on their website.
Stop over and see what other crew members had to say about the different grade levels and the CD by clicking on the banner below!

Disclaimer: As a member of The Old SchoolHouse Review Crew I was provided with access to the product stated above at no cost to me. No other payments were received for our review and all opinions are the honest opinions of myself or my children.