This is one of my favorite times of the year. We spend every Saturday morning visiting our local farmers market picking up fresh local produce. The difference in the taste of fresh from the market produce versus store-bought is quite amazing. Now don't get me wrong, living in Michigan means we have no choice but to purchase store produce for almost half of the year, but if I have a choice I get it from the market. Not only do they taste better, but they also stay fresh much longer as well.
Blueberries have recently started making their appearance at the market. This means all things blueberries will be coming from our kitchen. The kids love to eat them just plain, as the matter of fact last week one of my kiddos had the entire container of blueberries eaten before we even left the market. Of course, that meant I had to grab some more. Let's face it, the berries are delicious all on their own, but who doesn't love all the amazing blueberry recipes that can be made with these delicious berries.
After I started browsing online I was blown away at the number of blueberry recipes available. I could be busy every single week making new recipes to try. Many of them are perfect recipe ideas to bring to your summer get-togethers or parties, others are perfect for a snack or to go with a meal, and others are a perfect meal idea all by themselves. Either way, you're sure to find a new some new favorite blueberry recipes from this amazing list of mouth-watering ideas!
Fresh and Delicious Blueberry Recipes
1. Gluten-Free Blueberry Pancakes.
2. Lemon Blueberry Loaf Bread.
4. Blueberry and Buttermilk Scones with fresh Blueberry Jam.
5. Blueberry Oatmeal Breakfast Bars.
6. Blueberry Muffin Smoothie Bowl.
16. Gluten Free Blueberry Crisp.
17. Lemon Blueberry Cheesecake Bars.
18. Frozen Blueberry Cream Pie.
19. Blueberry Lemon Coffee Cake.
20. Maple Blueberry Powdered Sugar Donuts. (Paleo and Vegan Friendly)
21. Triple Berry Yogurt Granola Bark.
22. Blueberry Coconut Ice Cream.
24. Blueberry Buckle Crumb Cake.
29. Blueberry Lemon Curd Crepes.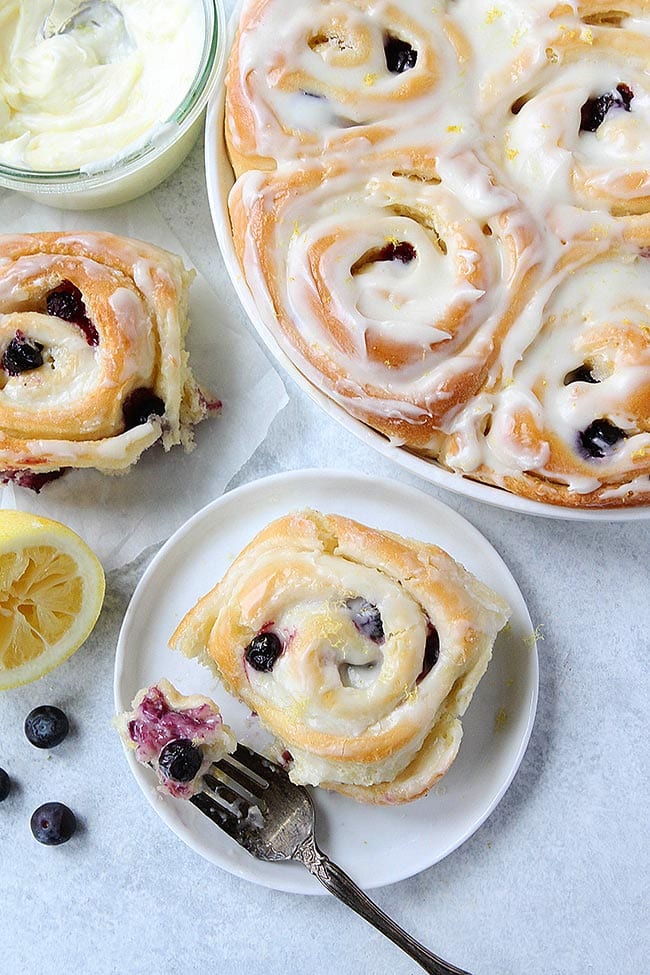 30. Lemon Blueberry Sweet Rolls.
31. Blueberry Fluff.
32. Blueberry Upside Down Cake.
34. White Chocolate Blueberry Lasagna.
35. Blueberry Cheesecake Crumb Cake.
36. Lemon Blueberry Cheesecake Cake.
37. Blueberry White Chocolate Cheesecake Dip.
38. Easy Keto Blueberry Cheesecake Bars.
41. Perfectly Delicious Blueberry Syrup.
42. Blueberry Lemon Hand Pies.
44. No-Bake Blueberry Swirl Bars.
45. Easy Homemade Blueberry Pie Recipe.
46. Blueberry Lemon Monkey Bread.
47. Lemon Blueberry Frozen Greek Yogurt Bites.
48. Blueberry Cheesecake Poke Cake.
So can you pick just one of these amazingly delicious blueberry recipes? I know that we will be making many of the recipes from the list this season.
Do you have a favorite blueberry recipe idea that wasn't included in this list? Leave a comment below letting me know about it, I love hearing from you!
This post may be linked up with THESE great linky parties. Hop on over to find other great recipes ideas from other bloggers around the web!