We are a homeschool family that really enjoys both unit studies and lap books added into our studies! So when we were given a chance to review a lapbook company I have never even heard of, I was very excited to review it for the Schoolhouse Review Crew!
A Journey Through Learning ~ is a company that offers many different themed lap books for parents, they offer many different lap books to choose from. They have lap books that go along with many different companies like Veggie Tales, Apologia Science, Truth Quest History, Geography Matters, and more!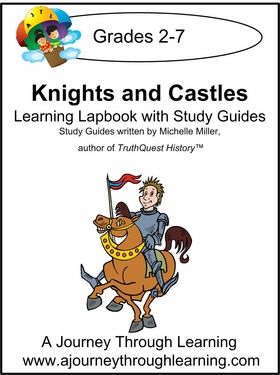 Knights and Castles (grades 2-7) ~
Knights and Castles lap book is for students grade 2-7. This lap book covers many topics about knights and castles from learning about their gear, their weapons, how to become a knight and so much more!
Dustin, Cody, and Anthony all have completed the Knights and Castles lap book. This was a fun lap book for the boys to make! Each of them were able to assemble their own lap book and also fill in all of the information that I read to them each day about the given topic. We have added some knights and castle books to our daily reading, and some fun crafts to to our learning about Knights and Castles.
Kids will learn about the following topics:
The Fall of Rome Paves the Way to the Middle Ages
How to Become a Knight
A Knight's Weapons
Knights in Shining Armor
A Knight Dresses for Battle
Heraldry
Castles From Dirt Pile to Dignified
Lifestyle During the Middle Ages-Work, Eat, and Work Some More
Housing During the Middle Ages
Christianity During The Middle Ages
Ethan and Gabriel made these lap books while the older kids worked on their lap books. It was so great to be able for them to be able to have their own work while the bigger kids we working! For Ethan 5 he cut each of the booklets out and put them into his folders with only a little guidance from me. For Gabe 3 I cut out the booklets for him and let him help cut certain areas himself, I showed him where to glue the booklets and he was able to put the glue and his booklet on himself.
We have been using A Journey Through Leaning Lap books each day for about 6 weeks now, the kids have finished a full lap book. Lap books are such a great and fun way my children enjoy learning, it is very hands on and is so much more fun for my children then reading and answering questions on work pages!
One thing that I really enjoy about the lapbooks is that the pictrues are colorful pictures so you can print them on white paper and the lap books are still quite colorful, previous lap books we have used had black and white pictures and you have to use colored paper to print them on to make them look more colorful which is more expensive! The lessons each day are short so the kids don't loose interest in what we are doing, but they have still included all the necessary information as well as further information for any of my kids wanting to dig in deeper!
Another one of the awesome features they have is that they give you full color picture of where each of the booklets should go into lap book, so that you know right where each of the booklets should be placed inside their lap books making it really quick and easy to find the placement!
The only issues with the program is that in the Letters, Numbers, & Shapes lap book a couple of the pockets was to small to fit the cards inside of them, I simply fixed that by just cutting the cards that go inside to fit. Not a problem for us, but one I thought I would mention!
Stop over and see what fellow crew members had to say about A Journey Through Learning Lap Books!