Something that is very important to me as a parent of kids getting older in todays world, is continuing a close relationship with them and also teaching them to have a relationship with God. Teaching them to trust in Christ through the good and bad, and knowing that everything that happens in this life is his will and to have courage not only through the good but also through the bad times.
Apologia Ministries has been a wonderful resource for helping me to teach my daughter how to grow her relationship with God, and has also helped her to continue to learn to be the best person she can be. A few months back we worked through I Don't Have Enough Faith To Be An Atheist by Apologia and the study was something that we both looked forward to, really enjoyed, and it taught both of us so much. So when we were given the opportunity to review Journeys Of Faithfulness another devotional from Apologia, we were very excited!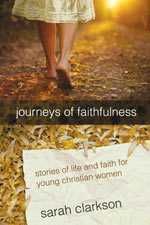 Journeys of Faithfulness by Sarah Clarkson, is an amazing devotional that is recommended for girls ages 12+. It includes 4 different parts, each consisting of 3 chapters for a total of 12 chapters. Each part contains a story about women found throughout the bible and then goes onto show how they had courage, and sacrifice to make them the heroines that they were! Some of the biblical women your daughters will go on a courageous journey with are Mary & Martha, Mary mother of Jesus, Ruth, and Ester their courageous journeys still inspire women today.
Apologia has done it once again, this devotional has been such a gem for us! Journeys of Faithfulness has stories of women through out the bible and shows young women their courage when you would least expect it, they also go onto talk about how they might have felt during the time. The author adds in her personal aspects to the stories, helping young women see how the same principles can be applied to someone else's life in today's world. Following each chapter is a section where the author shares a story about her life and explains how similar things have happened in her life and what she did during these times of trial. There have bible verses for them to look up after each chapter so your daughter can really see how the story can be applied in other parts of the bible. I found this to also be helpful for students becoming more familiar with the bible, along with each of the bible verses there are questions about something pertaining to the verse, that helps them dig deeper into each subject!
What Did We Think Of Journeys Of Faithfulness?
This has been one devotional that Serena has thoughly enjoyed!! Serena has been reading at least 2 chapters a week, and is just about half way through the book, even though she hasn't finished it, she is continuing to read excitedly thorough this devotional! The book has spaces for students to write directly on the pages, but she has been writing her answers into a separate notebook.
It has been helpful for teaching about women through out the bible who had courage, and how to use that courage in a way that is pleasing to God! It has also taught Serena to dig deeper about her bible studies and find courage where she would least expect it. The stories are exciting enough to draw my teenage daughter in so much she wants to read more, and actually walking away with so much more knowledge of faith and courage, which isn't easy to do unless it's her series books…
I really enjoyed a few things about this devotional, first off the author adds bits about herself letting kids learn about her life and love for God showing students how they can apply the principles to their life really giving the book a personal feel, second off the book doesn't just have students read the devotionals they help students dig in deeper to the story with the questions and verses that follow each of the chapters and from what I have seen so far it has helped Serena to really enjoy this devotional and take so much more from it, lastly the stories are real stories of women found in the bible it has already taught her some amazing things about Mary & Martha, and Mary mother of Jesus.
I would recommend Journeys of Faithfulness to anyone with a daughter 12+ this is one devotional you won't want to miss, it draws young women in and keeps them drawn in all while teaching them how they can apply these wonderful Christian values to their own life. In todays world I feel that one thing I see a lot of parents failing to teach their children is how to have courage and do it in a way that is pleasing to God. Journeys of Faithfulness is a book that teaches young women how to have courage in their own life but how to do it in a way that would please God!
I thought I would do something a little different for this review, and let Serena write her own excerpt of what she thought about this devotional, so this is what Serena had to say about Journeys of Faithfulness:
This is one book that I have thoroughly enjoyed, it has continued to strengthen my faith as a Christian! Journeys Of Faithfulness goes into the point of veiws of the bible characters themselves, which is really nice to see what they are thinking, it helps to makes the bible characters seem like you and me. After the is a story of the bible characters, comes a devotion, which is the author herself talking she tells about things that happen in her life and how she delt with those things. Following the devotion, there is bible verses you have to look up, the bible verses tell about things assosiated with the story you have just read. To help enhance the bible verses you answer a questions pertaining to the verse, the questions are about your own life.
I think that my favorite part is when I read about Mary, Martha's sister. She was the person that i would always want to be, the way she loved Jesus so much, filled me with joy. I would recommend this book to all girls 12+ looking to strengthen their relationship with Christ.
What is the cost of Journeys of Faithfulness?
Journeys of Faithfulness $13.00
Stop over and see what fellow crew members had to say about Journeys of Faithfulness by clicking the banner below.

Disclaimer:
As a member of the Schoolhouse Review Crew I was provided with a copy of Journeys of Faithfulness in return for my honest opinion of the product we were compensated in no other way. All opinions are the honest opinions of my children or myself.