There are some amazing deals going around the internet this weekend and the beginning of next week so I figured I would highlight a few of the amazing black Friday weekend/cyber Monday deals going on of products we use or are using through the holidays. These would be some places to find some wonderful gift ideas for anyone looking for great deals on Christmas Gifts or ways to teach your kids about the true meaning of the holiday season!
Grapevine:

Grapevine has been an amazing bible study for us, one that the youngest all the way to the oldest children enjoy, they have some great sales going on for November.
Free eLesson Joseph: The Early Years which is a sample lesson from Old Testament Part 4.
Looking for a great bible study for the Birth of Jesus? They have Birth Of Jesus Packages on sale right now.
Truth In The Tinsel: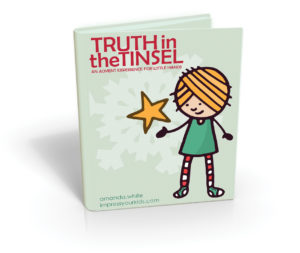 Truth in the Tinsel purchase Truth In The Tinsel and Advent experience for little hands for only $7.99, this is one Christmas study we are doing with the little kids this year and are very excited about!
Starting December 1st they also have a Facebook page to share pictures of your kids ornaments and join in fun conversation about your experience with Truth In The Tinsel!
Has a few cyber weekend deals including a FREE Chilly Polar Bear with a $50 purchase, bonus yous on select value sets and 40% off select outlet items. They are also offering free shipping on ALL orders when you use code: FREESHIPAFF, they are also offering FREE personalization!
Bright Ideas Press 
Bright Ideas Press is offering 20% your entire order, they sell Mystery Of History and Illuminations which is the History curriculum we have used for 2 years and love. The sale if valid through Cyber Monday.
What's In The Bible?
What's In the Bible
has been an amazing product for us, my kids are loving the Christmas video and we will be doing a review of the video soon!! They are offering $30 off of their complete bible set and 50% off retail price of their Christmas DVD!
Veggie Tales:
Veggie Tales is offering 40% off everything
on their site along with free shipping, no code needed!
Is offering a
free download of their Symbols Of Christmas Project Pack E-Book
through the Homeschool Buyers Co-Op.
They also have put together a
2012 gift guide
with lots of great gift ideas! Save 10% on all gifts on the 2012 gift guide here or enter the code SAVEGIFT at checkout.
Looking for great deals on fabric to make those personalized holiday gifts? Hancock Fabric is offering some great savings on Fabric through 12/15.
Plum District:
Plum District offers deals from great companies at a discounted price, sign up for their emails to be notified of the new daily deals!
Groupon has been a great resource
for purchasing things at about a 50% savings things I planned on buying anyway, I have seen deals for Toys R Us, electronics, toys, and more. I have purchased quite a few deals from
Groupon
in the past and been very pleased with all my purchases. 
Tiny Prints is offering 20%
off your total purchase when you use code 20NOVSW offer valid through 11/25. They are also offering FREE rounded corners on greeting cards through 11/25 no code necessary!!
Do you know of any great deals going on during Black Friday weekend/Cyber Monday? I would love to hear about them leave a comment letting me know.