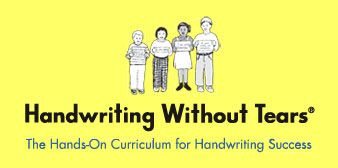 Handwriting Without Tears is a company that we have used for quite a few years now, so when given the chance to review their new updated edition that has come out, for the TOS Crew, I was very excited to help!
One of the major things that has been a huge help through the years is the fact that Handwriting Without Tears is a multi-sensory program, they believe children learn from actively doing and offer many different materials and activities to address each learning style including singing, moving, talking and experiencing the lessons. This has been so helpful when teaching my kids handwriting since all areas of learning are covered in this program I don't have to worry about choosing a different handwriting curriculum for each of the kids different learning styles.
Letters & Numbers For Me Student Workbook:
Letters & Numbers For Me Student Workbook is recommended for children at or around the Kindergarten level. The program starts by making sure that your children are familiar with the different terminology they will need to know through out the book by doing fun activities, learning catchy songs, using the wooden letters, and more! The program teaches using multi-sensory instruction while teaching they offer Visual, Tactile, Auditory, and Kinesthetic learning styles in each lesson so you can have a variety of activities to work on with your children keeping them interested and enjoying each of the lessons.
The creators of Handwriting Without Tears have designed each of the books teaching children the simple first and then building upon that. In the Kindergarten ~ Letters and Numbers for Me, children will first learn uppercase letters using the grey blocks to prevent reversals, they provide students with large instructions on how to make each letter using the wood pieces and the slate chalkboard. The lower case letters, words & sentence pages where children will learn new letters so that they can use words and sentences. Children will start on activity and Language arts pages once they have finished the upper and lower case letters, these pages have been developed to promote meaningful practice using words, poems, and paragraphs. Finally numbers, each of the numbers are taught using the grey blocks to prevent reversals and includes step-by-step directions on how to form the number.
Student workbook is only $8.25 and can be purchased from the Handwriting without Tears website. Inside the student workbooks they have really worked to make the workbook to fit any child here are some of the great features found in the workbook.
You will find child friendly, simple language making it easy for you child to understand the concepts being taught.
They also include large, simple to follow instructions for each step of forming each letter at the top of the page, and include how to make the letter with the wooden pieces and also using the slate chalkboard.
They have made the books lefty friendly. This was the only program that helped my lefty years ago when I was at my whits end, so that he could finally learn to write legibly!
They have carefully chosen the words your child practices throughout the workbook so that your child doesn't become frustrated practicing words and letters that haven't been taught yet.
With each letter learned your child will also have words and sentences to write so that they continually practice the previously learned letters for maximum retention.
Each of the Handwriting Without Tears workbooks contain black and white illustrations offering clean and distraction free pages. The pages are great for your child to color in when they are done. All the illustrations found in the workbook are left-to-right directionality, the illustrations move left to right across the page encouraging correct visual tracking.
They provide activities on different lines throughout the book so that your child will know how to form letters on every kind of paper starting with simple double lines and then moving onto all different types of lines.
Handwriting Without Tears first teaches kids letters using grey blocks, which are meant to help prevent reversals while teaching kids how to place their numbers and letters. Next children are taught lowercase using double lines making it easy for children to learn where to place letters and make them the right size.
Landscape style workbooks give children the extra room they need to learn to write and also teaches how to develop good spacing.
The Handwriting Without Tears Teachers Guide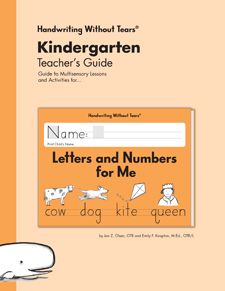 I think that the teachers guide is a must for the program, and they offer it for the
very low cost of $9.25 on their website.
The teachers guide starts by explaining the thinking behind Handwriting Without Tears, explains how to use the teachers guide and then moves onto how to teach the Foundation Skills. During students learning of the Foundation Skills students will learn the terminology used to make their letters, learn important vocabulary that will help them succeed words like behind, horizontal, learning their right hand, learn how to sit during handwriting, along with proper paper placement and proper pencil grip.
After children have done some Foundation Skills lessons they move onto writing capital letters where teachers will model how to properly write each letter and then allow children to write the letter. Each of the lessons also includes fun multi-sensory ideas to include in the lessons for maximum retention and a truly multi-sensory learning environment.
The teachers guide
has many useful resources that will help support you through out the school year. They include many resources at the back of the book which include common core standards, some fun tips to use with your student, a suggested schedule to follow, handwriting record, How to make Magic "c" Bunny, handwriting standards for kindergarten, and so much more!
The teachers guide
offers a clear and easy to follow guide for teaching your child, each of the lessons contain the following setup:
Each lesson starts with the objective section so that you can easily see what your objective is for the day.
 The main activity is then explained always using the following steps, Demonstrate ~ The teacher will demonstrate using the slate chalkboard, whiteboard or flip chart, they will then do one of the multi-sensory activities and then finger trace the large letter in their workbooks. Copy ~Children will remember to have good posture, pencil grip, and use of the helper hand, they will repeat with the teacher the step-by-step directions, watch the teacher, and the copy the letter for themselves. Check & Evaluate ~Using the check section they give you ways to access your child to make sure that they have learned the concept being taught.
 If the lesson has a smiley face, it means that A click away materials are available on their website for that lesson, A click Away offers instructional resources, new tips, additional handwriting activities and more!
They have included support/ELL giving you some great tips and ideas to help your child succeed.
They offer More To Learn which gives ideas to extend learning and to adds some fun variety to the each lessons. For example for the letter "L" they have you find the letter L in the alphabet then find the letter that comes before and after L.
Connections ~ Each lesson will list a subject and how teachers can extend the lesson into that subject for the day. For example for the letter "L" they have leaves on the page, so the connection for the day is science they suggest you bring in leaves or go for a leaf hunt around the school, discuss the similarities and differences of the leaves, and then classify by shape, size, texture, color, or shape.
 They have included a code in the teachers guides that can be used to sign up on their website for the A Click Away ideas which provides even more resources, including a newsletter, printable worksheets, new tips and more. They are very committed to helping parents & teachers succeed at teaching their children how to write, which is why they offer information on the latest advances in handwriting, they have answers so that parents & teachers will be aware of what needs to be done if your child has letter reversals, they tell you what to do if your child is mixing up capitals and lower case letters, and answer many common questions you might have along the way.
Added products suggested for Letters and Number For Me:












Slate Chalkboard & Blackboard with Double Lines: 
The website has the slate chalkboard and blackboard with double lines available to purchase but I decided this was one area that I could cut some costs.
For the blackboards ~ I purchased an inexpensive set of slate chalkboards and used a permanent marker to draw the double lines, for the slate chalkboards ~ I found a dollar store chalkboard to use as our slate chalkboard.
Wood Pieces Set for Capital Letters, Capital Cards & Mat for Wood Pieces:
The creators of Handwriting Without Tears knows how much young children enjoy building things, so they have added made these materials to teach children letter formation while building. I ended up purchasing these from the site, but I have heard some people using foam to make their pieces instead of having  to purchase these. I do feel that this is a necessary part of the program in the younger grades, and should be purchased or made some how.
This set contains from the site contains ~ eight Big Lines, six Little Lines, six Big Curves, six Little Curves. Using these children will, polish, stack, sort, learn names, and sort, and then build capital letters. The mat and letter cards have a smiley face in the top left corner to use as an orientation icon. The wooden pieces are very sturdy and will hold up to quite a bit of use.
Rock, Rap, Tap & learn CD ~ This CD contains songs to get your children writing in the air, tapping Big Lines, and more. I did purchase this CD because Ethan has been loving music lately, and for those children who enjoy music this CD would be a wonderful addition. For children who are not into music and songs this would not be a CD for you to purchase.
Magic "C" Bunny ~ Magic C Bunny is your teaching assistant through out the program because children love funny voices and props, you can purchase Magic "C" Bunny from the website or you can make your own using the provided instructions from a paper napkin. We have chosen to make ours from a paper napkin for now, I think you can choose to do it either way, but the Magic "C" Bunny is a great way to make learning more effective and fun!
Pencils for little hands
Handwriting Without Tears recommends using a smaller pencil for kindergarteners because they feel that children should use pencils that fit their hand size. You can purchase some of the pencils from their website, I ended up purchasing a big set of golf pencils with erasers off of Amazon for pretty cheap, and that is what Ethan has been using.



What Did We Think Of Handwriting Without Tears ~ Kindergarten?
I have to say we LOVE Handwriting Without Tears for teaching handwriting, we have used it for many years for all of our boys and been very happy with the program. We have been using the program with Ethan 4 days a week for just over a month now and both him and myself have been loving the program. I knew that this program would be great for Ethan because he is very active and needs lots of movement and things to keep him busy, which the Handwriting Without Tears program offers with their multi-sensory learning!
Ethan loves using the wooden pieces to build letters, and the magnetic pieces he has enjoyed as well. All of the hands on materials and multi sensory lessons they offer have made for a wonderful program for him that we will continue to use until he has mastered handwriting!
He has loved the program so much he will just go and get out the magnetic letter pieces or wooden letter pieces take the poster down, then sit and make letters for quite a while sometimes. I got some pictures of him working on his letters all by himself.
Here is Ethan letting us know that A stands for "Allie Alligator" after making his "A."
We purchased
the poster from the site,
it is a beautiful colorful poster great for children to refer to. Ethan will take it down and use it with the wooden letter pieces or the magnetic letters.
I would recommend this program to all teachers, they cover every learning style in each of the lessons, provide short 15 minute work periods that offer multi-sensory lessons to help your child retain the information taught. They offer many resources and ways to help with teaching that they have helped set you up for success at teaching your child, the workbooks provide easy to use lessons for both left and right handed students. The cost of the teachers manuals and workbooks are low cost which means you won't go broke in order to use a great handwriting curriculum with your children. Over all this is a program we will continue to use with all of our children to teach handwriting.
Click the banner below to read other crew members reviews for other Handwriting Without Tears levels, and their new Wet, Dry, Try app.

Disclaimer: 
I received a free copy of this product through the Schoolhouse Review Crew in exchange for my honest review. I was not required to write a positive review nor was I compensated in any other way. All opinions I have expressed are my own or those of my family. I am disclosing this in accordance with the FTC Regulations.