High School Math is a subject that I have been dreading to teach my kids, I do not care for math nor was I ever good at math past the elementary level, I can do it it just takes me longer. Jake is the one that Loves math, you give him just about any problem and within minutes he will tell you the answer! With how much Serena does not like math and for how hard it is for her to understand the math, it has been difficult finding a math curriculum to use that works for her. So when given the opportunity to review Math-U-See ~ Geometry from the TOS Crew, I was very excited to see if this was the curriculum for her.
Math-U-See is available for students in grades K-12. Math-U-See is different from many other math curriculums, as they want children to understand what it is they are doing instead of them just answering the questions and not knowing how or why the answer is what it is. They want your student to completely understand the given skills before moving onto the next lesson, even if that means students will stay on a lesson for a few extra days. They want students to know when in real life situations they should use the skills they are learning, which helps students apply the skills to everyday life situations easier.
Math-U-See is a multi sensory program, meaning they teach each subject in a way that children will understand no matter what their learning style is. In Primer – Algebra 1 the students will use manipulative to give them a visual and hands on way of learning the concepts. Because Math-U-See offers so many ways to learn each concept, this program fits well with many different teaching types, including Charlotte Mason, Unit Studies,  Traditional Homeschool, Classical Homeschool, and even relaxed/unschooling.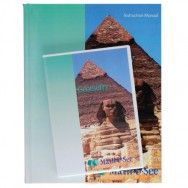 For our Math-U-See review, we received the Geometry Instruction pack and the Geometry Student pack. This is everything you need to teach your child this high school level math program… Well other then the paper and pencil! During this class students will learn about lines, points, planes, angles, circles, triangles, quadrilaterals, conic sections, proofs, Pythagorean Theorem, and more.
The DVD (included with the Geometry Instruction Pack) is such wonderful resource! It is a real live teacher, teaching students the concepts of math all while using down to earth, easy to understand vocabulary. They have spent years researching and finding out the best ways to teach the subject to students and teach in ways that really work. For example when I was in High School Geometry I loved most of the aspects of the class, but for the life of me I couldn't remember the many, many proofs and theorems that were taught each week, which quickly became a big problem. Math-U-See Geometry has found another way to teach kids and group similar proofs together so students are not having to remember tons of proofs and instead learn just 1. They also wait until students brains are more mature to cover the other proofs because their research has shown students who's brains have matured more can remember proofs and theorems easier!
In the student workbook they have set up the lessons in a way that students really remember the concepts and it is very easy for them to understand. They not only work on problems about the new concepts being taught, but also review previously taught concepts including concepts learned during Algebra 1! This book contains step by step examples making concepts and questions very easy to understand. They have included test for each chapter in the the book so there is no need to purchase a separate test/quiz book!
What Did We Think Of Math-U-See  ~ Geometry?
Serena has been using the Math-U-See Geometry program for just over 6 weeks now, every day we do school she completes a math lesson. She watches the DVD, and then will move onto the lesson pages where she is working on problems about the concepts being taught but also previously taught concepts as well. This has been great for Serena because without continued review, she will forget the concepts taught weeks or months ago. Using this program is actually helped her to retain and understand the concepts better than any other math program we have tried so far! We both have enjoyed this program so much I think we have finally found the perfect math curriculum for her to use through the rest of her High School years.
I love that the program is a very complete program for my High Schooler, and also encourages students to work on a lesson over and over until they fully understand what is being taught. I am also happy that she is able to pretty much do the entire program independently, mainly because of the fact that the DVD's walk kids through the class so when it comes time to work on their work page for the day they already know what to do and have a pretty good understanding of the concepts. I am able to make sure she in really understanding each of the concepts by giving her the tests found inside the students workbook. I now have a daughter that will willingly do math every day without any complaints because the program is taught in a way she is able to understand! Something I never would have thought we would have found.
I would recommend Math-U-See to anyone looking for a math program for their child! This is a very complete math program that is taught in a way that students can understand the concepts being taught in the class. They will enjoy doing math class while also taking the struggle out of getting the work done! The videos help walk your child through each concept in terms they can fully understand and helping to make this program pretty much a class students can do independently.
What Is The Cost Of Math-U-See?
The Geometry instruction pack, which includes the instruction manual and the DVD with lesson by lesson video instruction is $57.00
The Geometry Student Pack includes the student workbook, which includes lesson by lesson instructions and detailed samples, it also contains review pages and tests is $32.00
To figure out what level to place your student at, head over to the Math-U-See website and start by taking the placement test, to see what level your student should be placed.
Stop over and see what fellow crew members had to say about Math-U-See's different levels, click the banner below.