We have been given Luke's Life List and Luke's School List to review from the Schoolhouse Review Crew from Joyce Hertzog. Joyce Hertzog offers many helps for parents and teachers.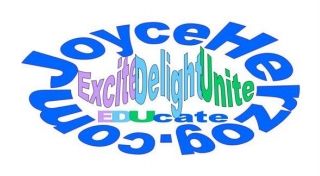 Both Luke's Life List and Luke's School List have been such an extensive and wonderful way to keep track of each of the individual learning and life journey for each of our children. I am a parent/teacher that believes each of my children are special and God has given them talents in life and it is my job as their parent/teacher to help my children realize and flourish those talents, Luke's Life List and Luke's School list is the perfect tool to help me accomplish those goals!
Luke's Life List
Luke's Life List is an extensive checklist for parents to follow along with the journey of a child in the subjects of
Early Childhood
Favor with God (spiritual growth)
Wisdom, Favor With Man (Physical Growth)
Stature, Adult Life Skills (maturation).
Luke's Life List takes the difficult task of taking all that each of your students are learning each day and gives you ideas on how to expand on the areas in life your child is interested in learning at the time, expanding your child's learning to the furthest extent and promoting natural learning. Joyce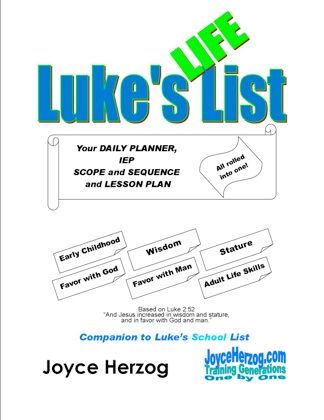 makes it clear that she does not want parents/teachers to feel overwhelmed by the extent of skills listed in the books (which is extensive) but to use it as a guide to know where your child is excelling and what areas they struggle with.
Each of the sections is set up the same and contains a few different bible verses pertaining to the subject or skill within in the introduction page, along with a paragraph about what God wants from your child on that particular subject. After the introduction page it goes onto each of the topics that your child should learn in those areas they have plenty of room for notes and check boxes so you can easily keep track of where your child is at the time.
Some of the great forms that are found inside Luke's Life List to help you keep track of many aspects of teaching your child are
Books Read Out Loud By Someone

Books Read Independently
Outstanding Projects
Unique Skills developed
Unusual contacts or opportunities God Provides
Field Trips Taken
Say that you were to take a field trip to the zoo and your child was extremely interested in the bears, as a parent you would then give them books, articles and anything else to teach them more about the bears your child was so interested in, this book helps you do just that.
Because the book contains many skills you can flourish the skills they excel in and also make sure that you are covering the subjects that they struggle with but only teach the basic skills needed to understand the concept.
Luke's School List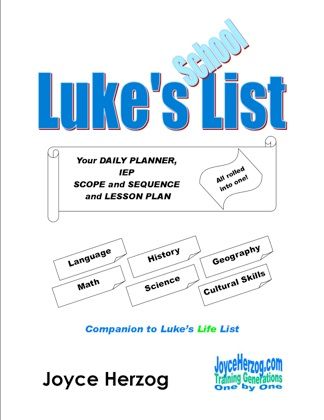 If there is anything I have learned in my 7 years homeschooling and even raising our 6 children is that each child learns at their own pace and that can be very different academically from the next child. For example I have had some kids learn to read very easily and have it mastered in just over a year, and also had a kiddo who is dyslexic so it took years of practice to pick up learning how to read but now he loves it. Luke's School List helps you keep track of the accomplishments your child makes and also helps you figure out what they should be learning next.  Luke's School List is a companion to Luke's Life List that is a complete guide for your children from Kindergarten through Eighth grade. This book is a guide for parents to follow on all the skills that are needed to be taught in the subjects of Language, Math, History, Science, Geography, and Cultural Skills.
Each of the subjects contains an overview of the main and lower level skills that should be learned. For example in the Language section there are 8 main headings
 Reading
 Spelling
 Grammar
 Writing
 Note-Taking Skills
 Research Skills
 Study Skills
 Speaking.
Inside each main heading there are subheadings. For example within the grammar heading there are 5 sub sections your child would need to know before they will have mastered grammar they are
sentences
functions of words
paragraphs
capitalization
punctuation.
Next they have a page in each of the subjects that talks to you about each of the subjects. Finally they give you a complete map of what your child should learn on that subject, they go onto a very extensive list of each of the headings with an extensive check list of skills that should be learned.
What Did We Think Of Luke's life List and Luke's School List?
I will have to say that both Luke's Life List and Luke's School List have been a blessing in this house, no longer looking into each grade and what your child should learn that year. Instead you have all that your child should learn through eighth grade in these 2 books. Each of the books contain very extensive lists so that you can follow along and know what your child should be learning next. Because I have a few kids that are special needs setting up more of an IEP for each of the kids helps me to make sure they are getting everything they need from extra help with what they struggle with and also help in exploring areas they are really good at. You can easily add things into the lists that you think are important if you choose, although I'm not sure you will be able to think of anything else that is not included in the lists of skills.
You have the choice to use the books for 1 individual student or to use it with all your students, I have choose to use it with all of my students because it is such a great way to keep track of their academic and personal skills. Both books have been a way to help set goals for each of our kids, but also helps with evaluation because they have all the skills needed in one place. The books also have been a huge help with record keeping, having everything in one place is so much easier then having 6 separate places!
To use the book with multiple children I had it so each child had 1 of the 3 columns, and in the notes section I color coded their individual notes so I could easily find out who's notes were who's as recommended in the book. They provide you with all the necessary forms you would need to help you along the way from goal setting forms, to IEP quarterly and yearly evaluation forms.
Something I loved about the books is that there are bible verses added into the areas pertaining to the skills for that sections to see what the bibles says on that subject or skill. For example in the movement section in Luke's Life Skills the verse is Acts 3:8 ~ And he leaping up stood, and walked, and entered with them into the temple, walking and leaping and praising God. What a great encouragement for parents/teachers to have God's word through out the books.
I would recommend both of these books to any parent that is interested in helping their students/child excel in areas that they are interested in at the time, and also for parents/teachers to understand the areas that they struggle with as well. This will help teachers simplify record keeping for children they will be teaching for more then 1 year and help understand what your student is ready to learn helping teachers layout a foundation for what to teach each individual child.
What Is The Cost Of Luke's Life List and Luke's School List?
Luke's Life List ~ $30.00
Luke's School List ~ $30.00
To read other reviews on products from Joyce Hertzog click the banner below, the crew was blessed with 12 different products to review.