Family game night is something that is enjoyed in our house regularly! So when given the opportunity to review The Presidentaial Game I we were very excited!
Now just as I was surprised The Presidential Game teaches the children exactally how a president gets elected and the things they can do to sway the voters of particular states with campaign cards. It also teaches them US Geography as well as adding and subtracting positive and negative number so they get some math skills as an added bonus! The Presidential Game is recommended for children 11+ but we had Anthony (9) on a team with the older kids (11, 13, 15) and he enjoyed the game just as much as the rest of the kids.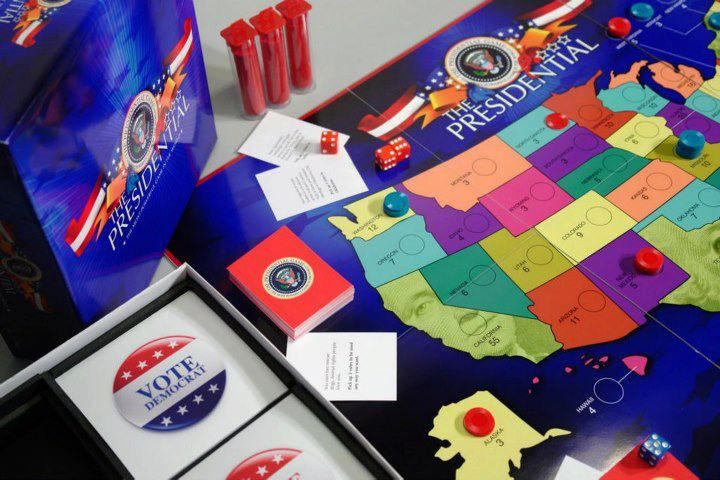 How The Game Works:
Teams choose if they will be on the democratic or republican team and then take their 150 colored chips and 3 dice that are their color. The teams then take turns for however many weeks you decide to have them campaign and try to win the most states over, on average we chose 15 weeks for campaigning which took us just over an hour to play.
During each turn teams will choose if they want to campaign or fundraise to try and win the most electoral votes by controlling the votes in that state. They can fundraise to try to win over the key states of Texas, California, New York, and Florida, or they can campaign to win over any of the other smaller states.
Teams will stack their chips onto the states that they choose, using the dice to decide how many of their chips will go to their state. The most chips on a state leaves that team leading in the state. But your opponents may come in and take over control of that state… Something we found out after we played a couple times was that when you fundraise you only need to roll 2 of the dice which was not clearly stated in the directions.
My children quickly learned (some faster then others 😉 ) that you didn't want to spend all of your time trying to just win the "Big States" and that by winning over many of the smaller states you could win! They learned how you beliefs and actions could sway a state to the other candidate when using the campaign cards.
At the end of your campaign teams roll the dice to see who is going to take each of the states that are left. Whoever has the most electoral votes at that time becomes "president."
Anthony and Serena on a team with Gabe as their dice roller.
Cody and Dustin on a team with Ethan as their dice roller.
Cody made enjoyed making hearts out of the red chips 🙂
Serena (14) and Dustin (13) both really enjoyed playing the game and were able to understand how to play more then the younger kids. Cody(11) and Anthony (9) both played on teams with Serena and Dustin so that they were able to participate in the game and learn from it as well. The 2 little boys (3 & 5) participated by helping the kids roll the dice because the little boys love participating in even the big kids games 🙂
While I was surprised that the game didn't have any learning about the presidents themselves, I was happy to teach my children about how the presidential elections work in such a hands on way. This is something that is a difficult thing to teach to kids and having them participate in a mock election helps them to understand how they so much better then just reading about them!
On top of learning about the presidential elections children will also get some added math practice when adding and subtracting electorial votes. It also helps with US Geography skills and even fine motor for placing the chips on the board in a nice stack.
Stop over and pick up your own Presidential Game for a fun family game night learning about how presidential elections work. The game, which includes everything you need to play is only $35.
Click the banner below to read what other members of the crew had to say about The Presidential Game