About Little Background About The Author:
A fellow homeschool mom was facing empty nesting syndrome from her 3 homeschooled children leaving home. She was inspired to start writing an article about the use of English history after seeing how much her children loved to learn about the English language history. She had been looking for curriculum that taught English History before college but was unable to find anything. Much to her surprise after 5 years of research, her article turned into much more, it had developed into a full fledged book, King Alfred's English A History of The Language We Speak, And Why We Should Be Glad We Do.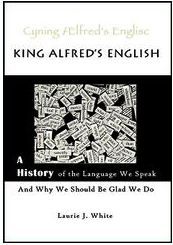 What Is King Alfred's English?
King Alfred's English is a History/English program that is geared towards students ages 12-adult. It contains 100 lessons ranging from 1/2 to 3 pages of reading, after finishing their reading students go over to TheShorterWord.com and look at some of the resources that go along with each chapter.
There are a few different resources to be utilized on the site, first off is Not To Be Missed are the top resources that go with the lessons and all of those resources should be explored, next is Movies they offer a large range of movie to choose from for each lesson they also include tips about the resources which is a help, we usually will watch 1-2 movies a week. Next is the Chapter Expanding the Lessons where you will find an extensive list of resources to expand each of the chapters lessons, these were resources used just about daily. One of our favorite parts is the section that lists different literature/ books that go along with the chapter lessons. Lastly is the Chapters Primary Source where one of the important things learned during the chapter is further explored through a link to an online resource.
There are 2 different ways you can use this program:
Read through the program in 2-3 short weeks
extend the lessons out to make the program a 1/4 year in both English, and History
King Alfred's English is split up into 6 sections, each a different time period
Pre-English Britain 55 BC-500AD
Old English 500-1066
Middle English 1066-1500
A Time Of Transition-From Middle to Modern English- 1400-1600
The Making of the English Bible 1526-1611
Shakespeare and Modern English From 1500 Onward
Each section contains 2 or 3 chapters for a total of 15 chapters (Click here for a closer look at the table of contents)
When Togas and Latin Came to Britannia
Well, We're Through with the Romans, So Who's Next?
A Little About Language
The Invasion of the Church and of Latin
The Invasion of the Vikings and Old Norse
The Invasions of the Normans and Old French
The Making of Middle English
And the World Became…Print!
The Invasion of Greek
"Sola Fide" – A Battle Cry for Faith
English Contraband: Fulfilling Wycliffe's Dream
Of Kings and Wives and Martyrs
The Bible That Was Named for a King
Shakespeare
If Only King Alfred Could See Us Now!
Supplemental Material:
You can find supplemental materials to the program for the students on their website and also supplemental materials for the teachers, all of the supplemental material is free! Some of the materials they offer are:
Chapter Worksheets
Unit Tests
Links to related online literature
Links to articles, images, and videos that expand the topics explored in each chapter
Suggested Movies
NOTE:
The author recommends parents watch the videos before letting their children watch them, as King Alfred's English covers a wide range of grades. What may be appropriate for a 12th grader, might not be so appropriate for an 8th grader!
How product used in your homeschool? 
I have extended the lessons and made it a 1/4 of a year English program, and it also qualifies for a 1/4 year of History, on top of the full year of Mystery Of History Lessons she is getting a great foundation in her Freshman Year for Serena. She is currently been working on the program for about a month and a half now. She is using the online resources daily to enhance the lessons, she also is reading most of the recommended literature to further her love for reading! The chapter work pages are easy for her to complete and she is doing wonderful in the class!
During that period of time, she has really been enjoying the program and I really couldn't have been blessed with this program at a better time, as she has a huge fascination with History right now. This program has put FUN back into English for her, a subject she did not look forward to before this program.
This program has been an amazing resource for Serena, I am so glad we found this program, and so is she! Her love for history has made her have a new found appreciation for English a subject she doesn't care for to much!
I have to agree with the age range of the product 12-Adult unless you had an advanced student who had a love for reading or History.  If a child much younger was given this product they would not understand the program as much, the wording and lessons are definitely geared towards older students.
Would you recommend the product to others?
I feel this curriculum would be a great addition to any Homeschool/school with High School aged students, especially if the have a love for History. I would also recommend the program to 7/8th grade parents if their children have a love for reading and history it would be a wonderful resource!
How much does the program cost?
You can also purchase it for $16.95 from Amazon
To find out more about King Alfred's English: 
Visit their Website
Follow their blog 
Authors Favorite Links
Like them on Facebook
Stop over and see what fellow crew members had to say about King Alfred's English

Disclaimer: As part of the Schoolhouse Review Crew I was given King Alfred's English to try in our homeschool, in return for an honest review of the product. My opinions are mine or my children's honest opinions about the product.