Music Together is an internationally recognized early childhood music program for babies, toddlers, preschoolers, kindergarteners, first, and second graders, and the adults who love them. First offered to the public in 1987 and a pioneer for early childhood music curiculum that strongly encourages adult involvement.
Music Together classes are based upon recognition that all children are musical. They believe that all children have the ability to sing in tune, keep a beat, and participate in the music of our cutlure, by introducing the concepts at an early age. Music Together believes that parents and caregivers of children should take an active part in teaching music and movement to children as early as newborn. They believe that introducing your children to actual music experiences with their caregivers or parents rather than teaching music instruction, watching TV, or just listening to CD's is a vital part of a child's beginning and is just as important as learning a second language.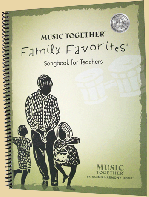 The Songbook For Teachers:
The songbook is divided into 3 sections to provide a complete manual for anyone wanting to teach children using the Music Together Program, even someone who has no previous music experience!
The first section is the opening section, it provides you with a complete overview of the Music Together Program including the history, it goes over the different types of music that will be taught in the program and explains why each is used, it tells how to work with the instruments/props and explains different ways you can use the instrument to make music more enjoyable for your child.
They even include a section on how to accommodate special needs kids telling you helpful ways to involve sensory kids (which was particularly helpful to me) and also provides different activities that may particularally helpful to special needs kids of all kinds!
The middle section of the book, contains 19 songs from the Music Together Family Favorites song collection. This section begins with a personal note from the creator Ken Guilmartin and then they include information about each song, information on how to use the song with all children in all environments. After the song and general information is given they have included an in depth section on working with children each of the following groups,
Infants: They have included a section so that children as young as newborn can get involved giving you many ideas on how to enhance their music experience.
Preschooler and older children: This section includes ideas on having your child singing indepentantly, funny substutions for the song to keep it interesting and integrate into other subjects, and how to slowly introduce rhythm in without your little ones realizing what they are doing!
Children with special needs: This section includes ways to help with your child's speech and communication using the songs, they also include sensory ideas to use during the songs that really keep your sensory kids moving anything from stomping to standing, and how to help your child gradually get into the music since music can be very overstimulating to some special needs children.
The last section of the book is a reference section which includes a glossary of terms used in the book, and a guitar reference page. They also provide information about the Music Together program and how you can get licensed to become a licensed provider of Music Together Programs.
Music Together Family Favorites CD:
We were also provided with the Music Together Family Favorites CD, which is a collection of 19 of the best loved songs from the 9 Music Together Collections. The CD comes complete with so many fun songs your child will start singing them in no time, they also include a hello song to start your music class and a goodbye song to finish off. All the songs on this CD all go along with the Songbook For Teachers. Included is a 32 page book are fun activity suggestions for every song for use at home, in the car, or in the classroom. Music Together Family Favorites is the winner of 11 different awards.
What Did We Think Of Music Together?
We were given the Music Together Family Favorites Songbook for Teachers and the accompanying Music Together Family Favorites CD to review. We have been using the Music Together program 3 days a week for about 5 weeks now, but the CD with the songs goes everywhere with us because the kids are asking me to put it in all the time as they move and dance in the car and even while getting their chores done.
I think I loved Music Together Family Favorites as much as the kids! This is one program I will continue to use in our home, the joy of the children getting into the music with everyone involved was such a joy for me to watch and participate in with my children. My only regret is not finding this program long ago so all of my children could have had the opportunity to be introduced to such an amazing music introduction at an earilier age.
The program is recommended for children ages birth through 7 but I will have to say all of my boys (2 1/2-12) enjoyed doing our Music Together classes with us as well. While the songs are being played the kids have amazed me with how well they can stay in beat with the music and how quick even the little ones are picking up on the words to the songs, the smiles on their faces while they enjoyed the music has been priceless!
I have to admit, I was a little concerned before I got the program that because I have not really taught any music class to the kids the most our music has been is our morning worship, that fear was put out upon arrival of the Music Together program. Everything was easily laid out in a way that is so easy to start I even had some great ideas on how to add some "sensory diet" into our music time to keep my sensory kids moving and actively involved.
One of our favorite songs for just about everyone  (except Ethan) was the Stick Tune it was a catchy tune and the beat was very apparent and every time we did this song the kids really got into it, I was surprised that even Gabe (2 1/2) was able to keep the beat of the song quite well. Ethan's favorite song is "She Sells Sea Shells" and he sings it almost perfectly, I have heard him many times now working on his school or playing with his toys singing this song.
I would recommend Music Together to all parents, teachers, and anyone who has regular interaction with children. The gift of music is such a precious gift, and the songs that are taught using the Music  Together program, gives children a solid music foundation at an early age. I adds a joy of music into not only the child who is learning it but also for the caregiver, teacher, or parent of the child. I plan on purchasing the other Music Together CD's to continue our journey of loving music using the Music Together Program!
What Is the Cost of Music Together?
$29.95 Music Together Favorites Songbook for teachers.
$14.95 Music Together Family Favorites CD
$9.99  Music Together Family Favorites MP3 Download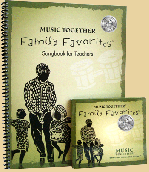 $39.95 Music Together Songbook and CD Combo (Save $5 when purchasing together)
$47.00 Music Together Songbook, CD, egg shakers, rythm sticks (save $5.65 when you purchase the set)
NOTE: Use code "schoolhouse" at checkout on the Music Together Online Store, and you can save an additional $2 on your purchase
Stop over and see what fellow crew member had to say about Music Together, by clicking on the banner below.

Disclaimer: As a member of the TOS crew I was provided with the Music Together Songbook and CD Combo at no cost to me. All opinions are the honest opinions of my children or myself.