Homeschool Legacy is a company that offers once a week Unit Studies. With the fact that we incorporate unit studies into our homeschool, this was a product I was very excited to review!
What are Once A Week Unit Studies?
Once A Week Unit Studies offers a comprehensive science and history unit studies that can easily be incorporated into any schedule. The unit studies are Boy Scout and American Heritage Girl friendly and offer kids a way to earn merit badges in each particular subject while completing their unit study with the rest of the family. Homeschool Legacy has taken all the prep work out and has everything planned out for you, down to the recommended books arranged using the Dewey decimal system, field trip suggestions, arts & crafts, stump your dad questions and so much more.
Once A Week Unit Studies adds fun, creativity, and hands on learning to any homeschool while giving students complete understanding of a particular subject. Once A Week Unit Studies incorporate a large amount of subjects into your unit study including: Bible, Literature, Language, History, Science, Geography, Research, Arts & Crafts, Art/Music Appreciation, Life Skills, Field Trips, and Family game and movie nights about your unit study. Homeschool Legacy offers 11 different titles of unit studies some of which include, Birds of a Feather, Christmas Comes to America, Early Settlers in America, Forest for the trees, and more.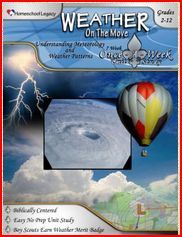 Weather On The Move – Once A Week Unit Study:
We were able to try out the Weather On The Move- Once A Week Unit Study in our homeschool, it is a 7 week program, and is used once a week to replace all your regular daily studies. Weather On The Move provides detailed lesson plans, so that teaching the lessons is easy to do even with no prior knowledge of the subject. Each weekly lesson is started by learning a devotion about the topic being discussed, it provides a list of materials needed clearly at the beginning of each week, it also gives a list of book including the Dewey decimal number of the book as well.
Weather On The Move has lots of hands on activities to teach kids all about weather, one of the great hand on features my kids really were happy about is the fact that there are not tests to see how they scored on the subject, they would only have to be able to carry on conversations about the subject for me to know if they were picking it up or not.
This unit study offers so many different activities in each week, starting off with the kids making their own weather tracking journals each week students learn another skill to add to the tracking page, we also are tracking the hurricanes in the Golf Coast using the provided maps, I really enjoyed the fact that they add devotionals and writing assignments right into the weekly curriculum all related to your topic, so that all subjects are being covered, it makes it so I am not having to search for extra work to add into our daily schedule.
One more really great thing about Homeschool Legacy is that not only are your children learning about the given topic together as a family, but upon completion of the unit study the boys will earn their Weather Merit Badge for Boy Scouts. This is something that is wonderful for moms with kids in Scouts! They also offer the Young Meteorologist Badge for girls that are part of American Heritage Girls.
How Did We Use Weather On The Move In Our Homeschool?
Scheduling Weather On The Move into our schedule was very easy as they give you suggestions on how to schedule the unit study. We have been working on the unit study for 5 weeks now, on Mondays, Tuesdays, and Thursdays we did our regular daily studies and then add in weather books for the younger boys and our Family Read Aloud which was The Swiss Family Robinson by Johann David Wyss. Wednesday's we would skip our regular daily studies and complete the unit studies activities for the week, so our family devotional, and read The Swiss Family Robinson. Fridays we do our reading for the day, a field trip, and family game or movie night.
Here are some of the fun things we have done while using the curriculum so far:
Week 1- Meteorology
This week we learned about the sun, the kids made their own weather journals, they researched Aristotle, started watching a daily news forecast, we discovered more about satellites what they are and what they do and lots more fun activities.
Week 2 The Sun- Our Solar Powered Weather Engine
This week we learned about the sun, we spent family time together star gazing (because the sun is a star really), the kids made a terrarium, the kids researched the history of the thermometer, did a science experiment with the thermometer, this week they started tracking the daily high and low temperatures using a thermometer, went on a field trip to a greenhouse, and other fun activities.
Week 3- The Atmosphere: An Ocean Of Air
This week we learned about The Atmosphere, we did quite a few experiments this week, but they were short easy to do quick experiments that really taught the concepts well! The kids made their own weathervane and started recording wind directions in their weather journals, looked up old weathervane pictures, worked on reading a poem about the wind, and more
Week 4- The Water Cycle
This week we learned about the water cycle, we did a few different experiments including making a rain gauge and started recording precipitation in their weather journals, watched "Singing In The Rain," learned about dew, and more
We are working on week 5 now, so I cannot say what we will end up doing in those weeks, but each of the following weeks is about
Week 5- Frozen Precipitation
Week 6- Clouds
Week 7- Extreme Weather
Our Feelings About Weather On The Move:
One of the thing that makes Homeschool Legacy unique is that they are just once a week unit studies! Because of this I was very curious to see how well the kids would retain the information even though the material was only really being used one full day a week and not added into our daily studies every day for all subjects like most of our unit studies. I was very pleasantly surprised as to how much of the unit they were retaining, which really reiterates for me the fact that my boys are really hands on learners to!
Another thing I was worried about was that not doing our daily studies that one day a week, if the unit study would be enough for my high standards of what I expect my children to do for school. Again I was very surprised as to how much they include with these lessons, they really are a complete days study and what I feel is enough to expect of children for daily work.
We really enjoyed so many of the activities, games, field trips, and all aspects of this unit study Most of the activities use items that you have around the house and inexpensive and easy to find if you don't. I would recommend these unit studies to any homeschool mom who love teaching hands on to learning or even someone looking for a different way to teach their students. I will be using other unit studies from this company in the future, I really enjoy the fact that the unit studies are not requiring you to get lots of daily studies put together you concentrate on your subject 1 day a week, leaving the rest of the week for regular studies.
What Is The Cost for Weather On The Move?
Weather On The Move comes with everything needed to complete this 7 week unit study for only $19.95
Stop over and see what fellow crew members had to say about other Homeschool Legacy Unit Studies, as the crew was blessed with 10 different titles to review.

Discliamer:
 As a member of the Schoolhouse Review Crew, I was given a copy of Weather On The Move Unit Study for review purposes. All opinions are honest, and those of mine or my children's