Reading kingdom is an online program for children that is easy to use and teaches children grades 4-10 year olds how to read and write to a third grade level. . Reading Kingdom can be used as a stand alone reading curriculum or used as a supplement to any curriculum. Kids often refer to Reading Kingdom as a reading game and not work, taking the struggle out of getting your kids to work on reading!
Reading Kingdom was developed by Dr. Miron Blanka world renowned expert on literacy and the Director of the Light on Learning Institute at Columbia University. He believes that phonics and whole language teaching are not the solution to teaching children to read and write. So he developed Reading Kingdom which offers a unique system that provides six skill methods for reading sucess which includes sequencing, motor skills, phonics (phonemic awareness), meaning, grammar and reading comprehension, as seen in the diagram below.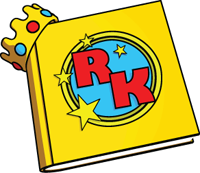 Because
Reading Kingdom
understands that each child is different, they have made the program so that as your child plays, the path they go down is made to target the areas that specific child needs help in. Some examples of the customization of the program are, the program skips over words your child can already read and write, tutoring to help you child see where their struggles are, they also include a progress check at the end of each of the 5 levels to check for mastery.
When your child first logs onto
Reading Kingdom
they are taken through an assessment test that places your child where they feel that they would fit best into the program this can be a long process, some of my children would have a hard time making it through the assessment without getting very frustrated, but Andthony didn't seem to mind. After your child has completed the assessment your child works on lessons and earns pages for the Reading Kingdom Book.
Below are a couple screenshots from Reading Kingdom. These are just a couple of the many games that are used to teach your children important reading and writing skills.
We have been using
Reading Kingdom
along with our current reading program for Anthony. He has really enjoyed the program. After getting him set up and showing him around Reading Kingdom and how everything works, he has been able to complete almost all the lessons independently. Each lesson takes about 15-30 minutes depending on how they are familiar with the concepts being taught and how well they can use the keyboard. I do have to mention that the lessons seemed very repetitive, and some days Anthony would be glad to be done. It has however helped him improve his reading, writing, and typing skills and we will continue to use the program for reading and writing with our current curriculum.
I also have to say that the program relies a lot on typing and if your child is not good with the keyboard, have them practice using the keyboard and mouse lessons. The program takes wrong responses as in your child does not understand the question, not that it might be a typing error, which can cause some frustrations. One of the added bonuses is that you get progress reports emailed to you regularly so you have a way to keep track of where you child is in the program and how well they are understanding the concepts.
The Cost Of Reading Kingdom:
Reading Kingdom offers a
30 FREE Trial,
after your trial period you have 2 options
Additional Children are given a 50% discount:
Each additional child per month: $9.99
Each additional child per year $99.99
You can cancel your subscription at any time.
You can also Find Reading Kingdom on:

Disclosure: As a member of the Schoolhouse Review Crew we were provided with a 1 year membership to Reading Kingdom in return for our honest review. All opinions are those of my children or myself.