When given the oportunity to be able to review what looks like a wonderful vocabulary program, I was very excited. Vocabulary is something that some of my kids really struggle with, and a different approach looked very inviting!
Vocab Videos was originally a way for students to study for vocabulary in prep for the SAT's. Since that time, they have released the program for parents/teachers looking to improve students vocabulary.
Vocab Videos consists of 25 episodes of videos, each episode consists of 20 short video clips. Each video clip consists of humorus and memorable videos to teach vocabulary. It uses visual and auditory cues and real life representation of words making it easier for students to relate and understand the vocabulary being taught. The videos are much like The Office, 24, and Gossip Girl.
Vocab Vodeos allows you to view vocabulary words in a few different ways, one way I thought was helpful is how they grouped words with similar definitions together so students can grasp the subtle differences between words having similar meanings. See example below:
Eagle Eye:
Acuity                 Sharp perception or vision
Astute                  Having sharp judgment
Discern                to detect or perceive
Incisive                penetrating, clear, and sharp
Keen                    Sharp, perceptive
Perspicacity         High level of perception or understanding
The program offers videos for initial learning of vocabulary words, but also offers
Digital Quizzes: The digital quizzes offer students practice on SAT style questions and then giving them feedback on what answers were correct and incorrect so students know what they need further practice on.
Worksheets: Digital worksheets are availabe for students to type in definitions of words and also use for reviewing prevously learned words. Links to worksheets are available directly from the video, worksheets can easily be converted to flash cards
Multimedia Flash Card Maker: Gives you the option to make personalized flash cards for not just vocabulary learned from the program but any vocabulary you are learning. The flash cards can also be viewed in different modes great for studying vocabulary words.
Crossword Puzzles: Printable crossword puzzles are available for students to further their practice on the vocabulary words being learned.
Below is a look at the easy to follow educators dashboard. You have easy access to your students, and can easily navigate to any area of the program.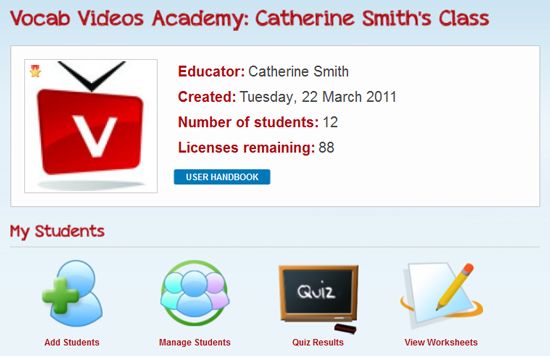 Let me start off by stating that we are a family who is VERY limited on what we allow our children to watch, play, and do. We do not even have cable in our house, we do have Netflix for educational videos, and own DVD's of the videos we have approved for the children, but even those are watched very limited.
I took the time to review the videos before letting Serena get started on the program, and am I ever glad I did! After previewing the videos, I decided there was no way that I would let my kids watch the videos. The videos all pertain to some type of office relationship humor that is not something I want my children watching, they also have underage drinking in a video, and use God's name in vein in a couple videos.
In one of the videos one of the people walks out of the bathroom with his pants down (he forgot to pull them up daydreaming about one of the office girls), only to find his friend who quickly shoots a picture and sends it to everyone in the office, including their boss, and nearly gets fired for the incident. Not the type of behavior I want my children going and repeating. I work very hard to put positive, faith building experiences into my children's lives and I feel this program goes against what we try to instill in our children.
I feel the program would be a wonderful fit for parents who are not quite worried about what their children are exposed to or do not mind language involving taking the lords name in vein. Parents who do not mind their children watch videos where rude office behavior is used to teach vocabulary, then this might be the program for you, but please be warned to preview the videos before allowing your children to watch them.
Price Of Vocab Videos:

Student Account (access for 1 student)
$24.99 for a 6 month membership
$39.99 for a 12 month membership
Educator Account (up to 20 student accounts)
$74.99 1 year access to Vocab videos for up to 20 students, also get acess to digital quizzes, flashcard maker, digital worksheets, and the easy to follow teacher dashboard.
For parents wanting a physical book for their children to follow, they also offer a 170 pg workbook for purchase. $11.99
Stop over and see what fellow crew members had to say about Vocab Videos by clicking on the banner below!
Disclosure:
As a member of the Schoolhouse Review Crew I was provided with a free 1 year subscription to Vocab Videos, in return for my honest opinion of the product. All opinions are those of mine or my children's,