With the fact that many people overlook teaching their children how to be responsible with their money, it is such an important skill for teens to learn before they are expected to manage their money once they leave the house. It is our job as parents to equip our children with the skills and attitudes with money, half of all teens express interest in learning about money, but yet only 24% of parents discuss money management and banking with them. So when given the opportunity to review Wealth Quest for Teens Ltd. I was very excited about using this program with Serena and the rest of my children as they get older!
Wealthy Quest For Teens Ltd. teaches students a new way to think about and manage money. Wealthy Quest provides both students and parents with all the necessary material to not just teach your teen how to save for a big purchase, but how to properly manage money for everything. It teaches parents that how our attitude towards money will effect how our children will manage their money as adults.
They provide a roadmap and all the necessary tools for students, and also provides guidance for parents helping them ensure your students success.
The Wealth Quest for Teens program consists of 4 different parts to the program,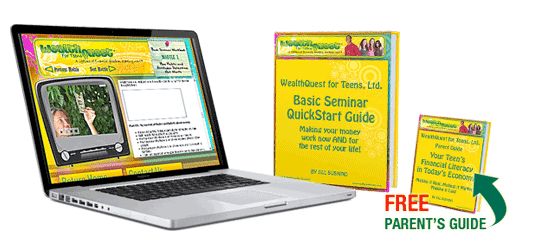 Video and interactive workbook seminar-  Each of the video seminars are taught by teens helping your teen to have more interest. The seminars have on screen questions your students answer while working on the program keeping them engaged they also add music, photos, and video clips keeping in fun and funny for kids. It will on average take about a week or 2 1/2 hours to complete the complete video and ineteractive workbook seminar. The seminars are split into 7 modules which are self-paced so your student can work at what ever pace you want them to.
Module 1 your student will get an introduction and overview to the program, and also learn why they are using the program and learning to manage money.
Module 2 teaches students that what their spending habits and attitude about money determine your net worth
Module 3 teaches students about the 3 different kinds of income earned, passive, and portfolio.
Module 4 teaches your students about money so they can be a person that is knowledgable about money and know why they should be. It also teaches students about compound interest so they can see the power of saving money!
Module 5 teaches students how to manage their money now and in the future, and why they should start now!
Module 6 really gets students thinking about how their wealth affects the kind of life they will live, and get your student thinking about their goals, dreams, and values.
Module 7 has students look at financial freedom, and also teaches helps empower your teen to lead a successful life but also how their financial success can help them make the world better!
Workbook for the teens- 30 daily assignments most of the lessons take only about 5-15 minutes each day to complete. The workbook is used along with the video seminars so that your student is really engaged and interacting with the videos. The workbook has student really think about what their financial dreams are, what they want to do with their money, and how they can work hard to start building long term success


The third part is an online money-management program- this part of the program can either be done while working on the workbooks or it can be completed after the workbooks are finished. It lets teens track their income, expenses and helps them distribute their money into a SILO system.


The forth part is a 60 page pdf. book, and is for parents- This PDF is a must have for the program, and is a wealth of information. It really helps parents support your teen as they work through the program so your teen can have all means necessary to succeed. It starts off by giving statistics, and introducing you to the creator of the program and the money problems she had and what she learned from that and is now helping others do the same. It teaches parents the attitude we need to have to help our children become sucessful with money managment as children that will continue on as they are adults! They help parents realize the roadblocks we put in our teens paths of financial freedom without even realizing it.
I had Serena work through the interactive videos over a weekend, and she continued working on the workbook for a months period of time. I have read through the parents manual
Some of the things I have learned just from reading through the Parent guide have been amazing. I didn't realize the statistics on how parents and children manage money, it was an eye opener! A few of the things were, I learned that I to was putting some roadblocks in my children's path that I need to work on to help my children become successful adults such as,  are not ever talking about our money to our children, this is something Jake is very strict about, that it's not any of the children's business, one area that we are having to work on, and something I had Jake read more about so he understood why this is a mistake if we want to have financially smart adults some day! Another thing I learned is that while we give our children a small allowance for some of their chores, we have already taught them to Save 10%, Give 10%, and the rest is theirs, but the program added other aspects into where their money should go.
Serena was surprised as to the statistics as well, some of the things she liked was that they add fun and excitement to the lessons. She was also happy they offered on screen questions so that students don't have to write out all  their answers during the lessons, they type them into the program and print them out at the end of lesson. The lessons were easy to understand and taught by other teens rather than a teacher.
I would recommend
Wealthy Quest for Teens Ltd.
to any parent wanting to teach their children how to manage money properly and also to any parents wanting their children to succeed as adults financially!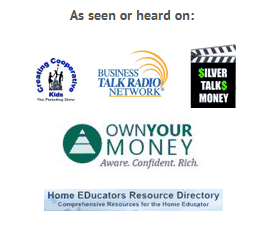 Stay up to date on Wealthy Quest and also be updated when the next part to the program comes out by following them.
What is the cost of the program?
Stop over and see what fellow crew members had to say about Wealth Quest for teens.

Disclaimer:
As a member of the Schoolhouse Review Crew I was given the Wealth Quest for Teens program at no cost to us in return for our review of the program. All opinion are the honest opinions of my children or myself.