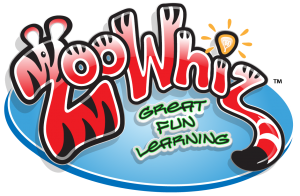 ZooWhiz is an online program for children ages 5-15, it is developing rapidly, and now has over 10,000 members from more than 70 countries around the world. Zoo Whiz offers a FREE membership for users giving them access to some of the great games, animals, and more, they also offer a PREMIUM membership for a very LOW yearly price for added games, more endangered animals, more content selection, and so much more!

There are over 17,000 learning activities based on curriculum standards, that cover the subjects of Math, Reading, Word Skills, Punctuation, and Grammar. Kids are rewarded for correct answers by a monkey, which helps reinforce learning. Zoo Whiz realizes that all children learn at different paces, and their content will adjust if to many of the answers are answered correctly, with the premium feature parents also have the ability to go in and adjust the level for individual subjects using the content slider.
Zoo Whiz offers content relevant curriculum for all Australian states, New Zealand, United Kingdom, Republic of Ireland, Singapore, Canada, and the USA. The program let you choose your country so your children are learning about things that are specific to them something I have not seen on other learning programs.
The premium feature offers parents detailed dynamic reports with very easy to read format so parents can easily and quickly see their child's progress. They also offer an age floor control where you set a minimum age for ZooWhiz activities and children are only able to acess games 1 year below the specified age.

Kids first start out by choosing the avatar they would like to use, they then move onto doing the learning activities, where kids can earn coins for each correct answers, they also earn 100 coins everyday just for signing on. Kids can go to the arcade to spend their coins playing fun games, or to the biome to purchase more animals.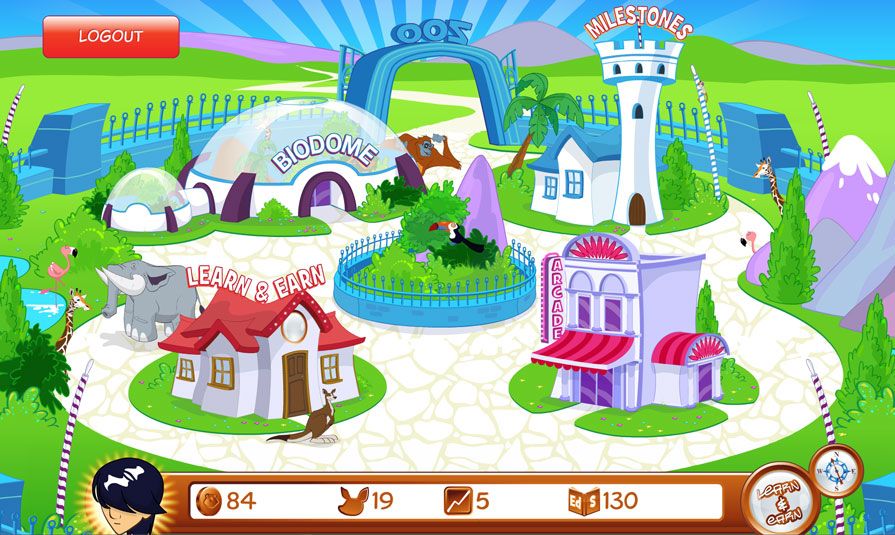 Kids start out by designing their own avatar to use while playing. Next they will earn coins to either purchase animals you child will have the choice of where they would like to go next, they start at the gates and have a choice of one of the 4 different areas:
Biodome: Where kids can purchase animals with the coins they have earned the more exotic the animal the more coins it costs to purchase.
Learn & Earn: This is the main learning section of the game. Kids will play educational games to earn coins. They have the option to continue on their activities, or they can choose a particular subject to work on.
Milestones: Where students can view their results for all subjects and games they have played on Zoo Whiz.
Arcade: Kids can play fun games using their coins, for 50 coins they get 3 minutes of play on whatever game they choose. There are many arcade games to choose from in the premium membership.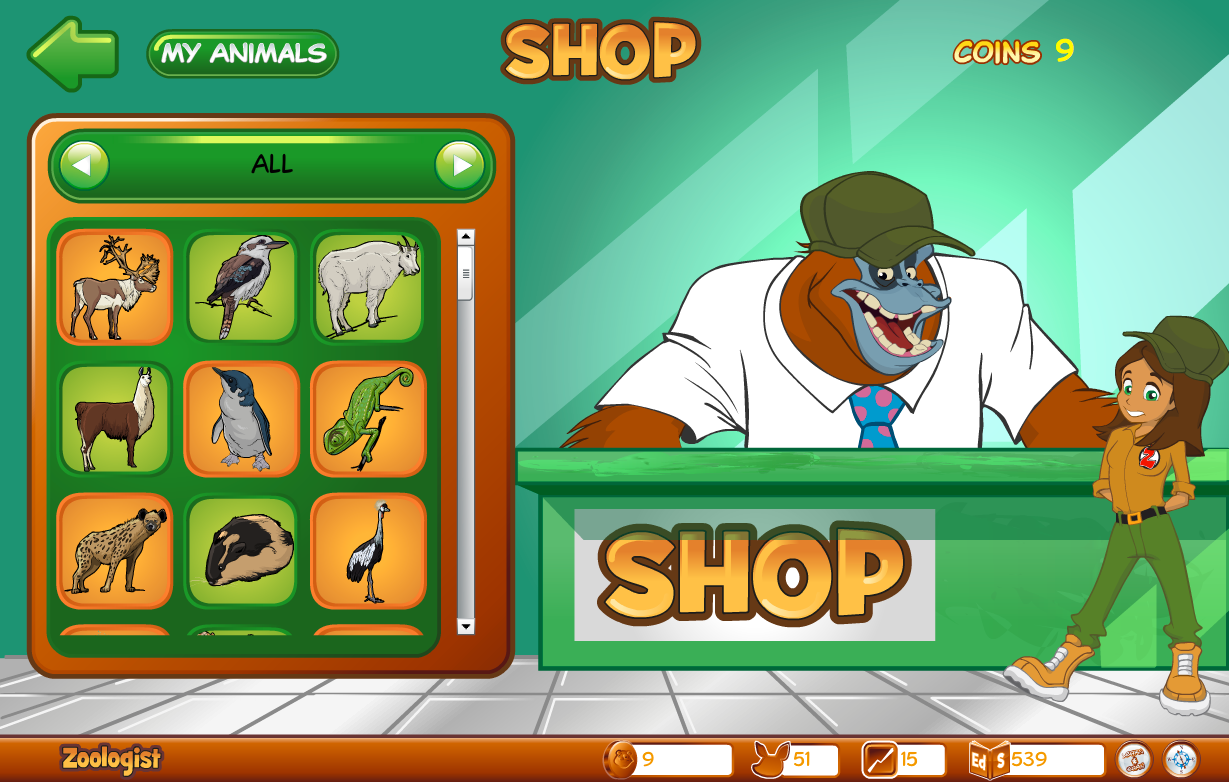 The animals the kids purchase are stored in a book in the Biodome area. Kids can go into their book in the Biome Zone and learn more about the animals they have purchased, including scientific name, details about the animal, the habitats that the animal lives in, what their diet is, and how threatened they are.
What Did We Think Of Zoo Whiz?
Anthony was the one who got to use our Zoo Whiz membership, he got on just about every school day. Some of the things that he has enjoyed is that the learning activities not always easy, and challenged him, he also really enjoyed the arcade games and all the options he had available for games.
While Anthony has enjoyed the program, he has also had a bit of frustration with the game, after 2 weeks of playing almost daily and building up his animals and coins, he logged on one day to find out all his work was gone and had to start all over, he has built his animals and coins back up since but was upset by it. Another frustration he expressed to me is that on some of the games that you have to move tiles to spell a word and the tiles must be in an exact spot or they will send them back and you have to drag them back up, the last frustration he expressed was that sometimes when clicking on the next button after answering a question he will accidently click on the OK button not having answered the question yet, and then get the answer wrong.
I personally think it is a great program that has wonderful educational games for such an amazing low price right now. The educational games, from what we experienced with Anthony (8) are great practice on a variety of subjects and the questions seem to be right on target not to hard, but hard enough to make him think you don't always find that with programs. I do however think that the game would be so much more fun if the kids were able to somehow interact with the animals instead of just learn about them. For the low price they are offering for a 1 year subscription, I would recommend this program to all moms and it is one educational game that will be added to our list of educational game choices for the kids.
Cost Of ZooWhiz:

Premium Membership: For a 1 time low price of $14.95 you will have a 1 year access to all the premium content, this is a low price introductory offer of 75% off the normal price is $59.95 so sign up while the price is still low!
Free Membership: Zoo Whiz also offers a free membership that offers some of the features to parents as well as some of the animals and arcade games. This is a great way to try the program out and see if it will be a fit for you!!
14 Day Guarantee: ZooWhiz is so confident you and your child will love ZooWhiz so much that they offer at 14 day 100% satisfaction Guarantee. If you are not satisfied with your Premium membership you can contact them requesting for them to cancel your subscription, they will cancel your membership and refund on any money paid.
Stop over and see what fellow crew members had to say about their subscription to Zoo Whiz.

Disclaimer: As a member of the Schoolhouse Review Crew, we were provided with a free 12 month premium subscription in return for an honest review of the product. All opinions expressed are the honest opinions of my children or myself.