Spanish is something that I think all children now a days need to learn. The only thing is I have had a difficult time finding a good spanish program that would teach all of my children together and cover each of their different learning styles. When we were given the opportunity to review See It Say It Flip Flop Spanish from Flip Flop Learning we were very excited.
The program is recommended for anyone ages 3 and up. What's included in the program: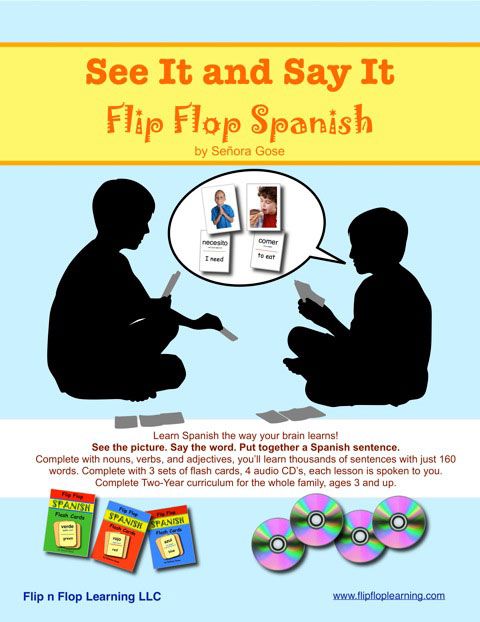 ~ 3 sets of flash cards (135 cards)  that have colorful pictures along with the english and spanish word.
~ 4 Audio CD's with sleeves to store them in your binder.
~ 150 page ~ 45 Lesson manual on prepunched pages ready for your binder.
~ 2 Plastic sheets to keep your flash cards.
When you get Flip Flop Spanish the package comes with everything you will need already put together for you all you have to do is put it all into a binder. The 150 page lesson plans are already hole punched making it super easy for you, the CD's have sleeves they fit into that also fits in your binder, and they have even included some plastic pages to put your flash cards into which yes, fits into your binder as well.
See It Say It Flip Flop Spanish is designed to take 2 years to complete. During the program you will be teaching your students 160 different Spanish words. You will not only learn how to say the words but also how to use them in sentences by the end of the first week.
3 Days a week you will have your child work on Flip Flop Spanish it takes about 10-15 minutes for each lesson. On the first 2 days of the lessons students will listen to the audio CD's of the words they are learning for the week. On the 3rd day the teacher will work on a lesson with the students and then work on practicing the new words with fun hands on ideas. They will use the flash card to make sentences as early as the first week of learning.
Something that made the lessons very fun and engaging for the kids was the fact that the lessons are multi-sensorial. This made it so that all of my children no matter what way they learned best would enjoy learning spanish. Some of the fun games that are played during this program are charades, guess the word, Pictionary (on the paddle white board,) and other fun games. Because each of the lessons has different ways for the children to learn it kept all of my children engaged.
The program makes starting very easy which is something that is wonderful for our busy household. Each of the lessons tells you exactly what to teach/say and gives you clear directions on what needs to be done for the week. They provide you with a list of the cards that will be needed so that you have everything prepared ahead of time.
~ Very simple program that is easy to use right from the box. You have pretty much no reading and figuring out how to use the program it is so simple to get started.
~ Multi-Sensory program that gets kids moving and covers different learning styles. They use many different games and learning resources to teach children how to use the Spanish words and also how to use them in sentences and speaking fluently.
~ It can be used with all of my children and I don't need to get a separate program for my older children and younger children. Gabe (3) was going around saying Spanish words each day the kids worked on the lessons and even the older kids would use the words on a regular basis.
~ Real life pictures on the cards, and not cartoon or drawn pictures which is always so much more appealing to children.
Dislikes
~ In the lesson plans they tell you what cards you will need for each day so you can have them prepared ahead of time. I would have liked to see them separate the cards that are previously learned cards from the new cards that will be needed for the lesson. I found myself a couple times looking for a card that had already been pulled out for a previous lesson.
~ While they do have each of the cards numbered I would have liked to see them all organized into what lesson they will be used in.  The program comes with 3 decks of cards (red, blue, and green) some days you would take a couple cards from the red deck, blue deck, and the green deck. I would have been much easier to have pulled all the cards out from the same deck instead.
I was very happy with See It Say It Flip Flop Spanish program, my children were as well. We have really enjoyed this multi-sensory way to learn Spanish and will continue to use it. I would recommend this program to any parent looking for an easy way to teach your child or yourself Spanish!!
Head over to Flip Flop Learning to pick up your own copy of See It Say It Flip Flop Spanish for only $99 with free shipping.
Click the banner below to read what fellow crew members had to say about Flip Flop Spanish!