This post contains affiliate links, read my Disclosure for more information.
With all the hassle and bustle of the season, many of us forget to remember the true meaning of Christmas. So today I though I would share with you some ways we practice celebrating the TRUE meaning of Christmas and some other ideas from around the web. We have done this with an Easter post, and it is always a viewer favorite around the holidays.
Some years we take time to learn about how different countries celebrate the holidays. We shared about our Hannukkah unit that we did a couple years ago. Some years we enjoy going to the local gardens and visiting Christmas Around The World which is a unique and amazing place to visit.
Christmas Videos that Teach Kids the TRUE meaning of Christmas
We love snuggling together on some of the evenings leading up to Christmas and watching some wonderful Christmas movies that help kids understand why we celebrate Christmas. Here are some of our favorites.
Why Do We Call It Christmas? You can read our review of this wonderful DVD from the creator of Veggie Tales. This is a video that is played many times through out the Christmas season around here. There are also a couple Veggie Tales videos that teach different aspects about the Christmas season that are family favorites as well.
Our favorite Christmas DVD's.
Don't want to wait for a DVD to be shipped to you? Why not watch some of the video's on Amazon Prime Instant Video.

Christmas Printables
Printable nativity diorama would be a really fun way for kids to reenact the birth of Jesus! There are a few different printable pages offered at daily coloring pages.
Make some Christmas Characters finger puppets, the free printables can be found at Craftaholics Anonymous. What a fun way for little ones to reenact the story of Jesus's birth.
Intoxicated On Life shared this homeschool unit study called Homeschooling Through The Nativity. This printable pack contains notebook pages, word searches, coloring pages, crossword puzzle, and more.
You can find this great FREE printable Uno Game nativity style over at The Schoolhouse.
You can get this great FREE Nativity Printable pack from 1+1+1=1, it contains 3-part cards, graphing, beginning sounds, and more!
 You can print off this FREE printable nativity scene that can be stuck on your fridge for easy reference shared over at Kid Eats.
You can use the designs shared over at Stay At Home Organizer to make your own Nativity felt set for your kids to use on a felt board
You can go on a family nativity scavenger hunt using this printable offered at Teacher Of Good Things.
You can get 15 different printable pages that offers copywork, simple addition and subtraction, word searches, fill in the blanks and many more great pages for kids to work on during the Christmas season, these portables are offered at Mama's Learning Corner.
You can have fun decorating these printable nativity ornaments, shared over at The Sewer The Cakeer The Copycat Maker.
Here is an adorable nativity printable coloring page, it would be a great idea for kids to make their own Christmas placemat, or frame to hang on the wall for Christmas.
This nativity coloring pages mini book is a great printable mini book for your kids to make to help tell the characters of the Christmas story, printable shared over at Mama's Learning Corner.
Nativity Arts and Craft Ideas:
Hands on Nativity Learning
Nativity Sensory Bins
If you have been a follower of our blog for a while you know just how much we love sensory bins. We have shared a ton of different sensory bin ideas over the years. Here are some sensory bins around the web that are Nativity themed.
Nativity Themed Food
Christmas Stories that Teach Kids the REAL Meaning of Christmas
Reading Christmas stories that teach the kids the real Christmas meaning is something we do every night with the younger kids, there are books the boys really look forward to being pulled out each year. While we always have a couple Christmas books that are just fun to read the majority of our Christmas books are about the real meaning of Christmas.
Our favorite Christmas stories that are about the TRUE meaning of Christmas for elementary kids.
A Little Golden Book ~ The Christmas Story
The Berenstain Bears and the Joy of Giving
The Year Of The Perfect Christmas Tree
Make Your Own Advent calendar
There have been a couple years we worked through Truth In The Tinsel during the Advent season, this was a wonderful hands on way to teach the kids about different aspects of the Christmas season. Here is a look at our day 1-6 ornaments for Truth In The Tinsel. Not only do they have Truth In The Tinsel, but they also have printable ornaments for your family to make each day of the Advent season. Both are very inexpensive and very well worth the investment in my opinion!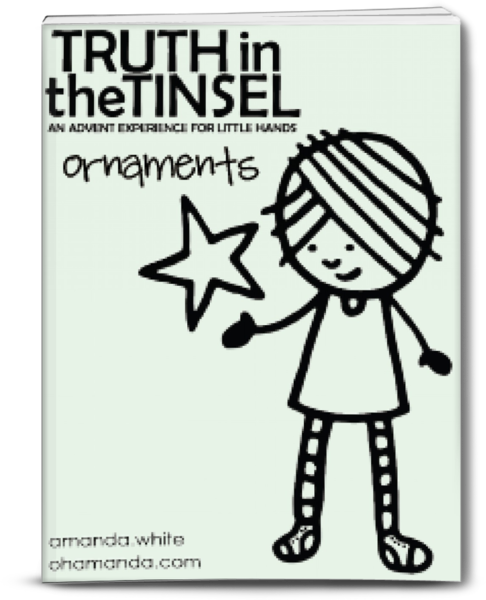 We have used this Amanda Bennett Christmas Unit study a couple years, the kids loved it and I enjoyed the fact that it teaches all kinds of information about the true meaning of Christmas.
Christmas resources from Pinterest
you can find some great ideas for making handprint, fingerprint, and footprint nativity scenes, what a wonderful idea. This could be used in a classroom, or it could be used as decorations for around the house. This idea is from the Fun Handprint art blog.
Add a giant felt board up that the kids can make a nativity scene that kids really enjoy. Find out how to make your own over at My Crazy Blessed Life.  
This nativity preschool printable pack is a fun idea to keep the younger kids busy during the Christmas break coming up.
25 Days of Christ would be a wonderful way spend the the 25 days leading up to Christmas. Families make 25 symbolic ornaments celebrating the life of Christ.
---
For other Christmas Ideas stop over and check out my Christmas Ideas page, with all of our Christmas Shares through out the years.
My Christmas Pinterest board has many ideas for Christmas as well.
Follow Mama Of Many Blessings's board Christmas Ideas for families & Kids on Pinterest.
I am linking up with these great link parties.