With the fact that I will be teaching a preschooler next year, I love letting children learn from the world around them, and I am always learning new things to implement with our children. I figured that the book The Homegrown Preschooler: Teaching Your Kids In The Places They Live would be a great resource to read through and implement into our preschool learning environment over the next couple years!

Gryphon House is a company that offers many different amazing resources for early childhood, some of them even award winning. One of their great products is The Homegrown Preschooler which is a 204 page book that consists of 9 chapters about teaching your child which is then followed by many activities and resources.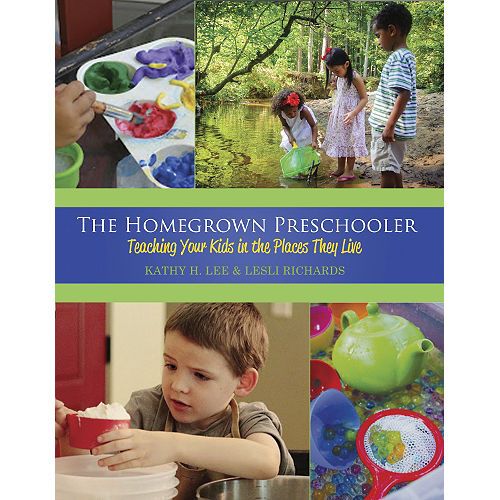 The first half of the book contains the 9 chapters that share with you what your preschooler should be learning, why, and how to implement it in your house in a way that is easy to do. They talk about it in a real way, discussing the roadblocks you may face and the fact that every day will not be how you expect, but also share the rewards with you! This section was wonderful in helping me really remember exactly what my preschooler should be learning and helped me focus on the main topics.
The table of contents for the 9 chapter is:
Chapter 1: Homeschooling ~ Harvesting A Bountiful Life
Chapter 2: Learning Through Play
Chapter 3: Sowing The Seeds ~ Preschool Learning
Chapter 4: Setting The Stage
Chapter 5: Home Life = Learning ~ Slow Down And Teach
Chapter 6: Who Has Time For This?
Chapter 7: Organizing It All
Chapter 8: Days and Seasons That Don't Fit In The Box
Chapter 9: Special Circumstances
Following the 9 chapters is the Activity Section which is about 100 pages long full of wonderful learning ideas in all different areas of learning. It contains ideas in Home Life, Science, Gross Motor, Fine Motor, Math, Language and Emergent Literacy, Art, and Social-Emotional. In each of the sections they list many different ideas to try with your preschooler to help teach them about that particular subject. Many of the ideas are using items you already have laying around the house and a quickly to put together. They share different recipes to make, many different sensory recipes like clay and play-doh, they share tons of ideas for sensory bin ideas, art projects, songs with the lyrics, ways to extend some of your favorite stories, and many other wonderful ideas.
At the end of the book they have a weekly schedule for you to keep track of your preschool scheduling, they have a checklist that is split up into subjects of many items most have around their house that can be used for learning purposes. They also have plans on how to build your own sensory table and plexiglass table (which is something that has been on my to-do list for a while. 😉 ) Our kids have LOVED our DIY Sensory Table and use it a lot!
The book contains beautiful colored pictures throughout and is a very sturdy well made book.
Intertwined in this book are tips from the authors on their experiences that they have on that certain subject or topic, they have famous quotes and bible verses,
they have recipes,
Great tips, and ideas.
and so much more.
All of these great extras put through out the book really help to add a personal touch to the book that I really enjoyed!
Some of the fun things we have done from this book are toe pick-up (whack the boys thought was so hilarious) where they used their toes to pick up straws, blocks and other things off of the floor. Going on an opposites hunt where we found open/closed doors, talked about who was first/last, and who had few/many snacks left. We made some homemade finger paint (which was Gabe's favorite) and tin foil sculptures. Not only did the kids love the activities they were great ideas to keep them busy on rainy days while learning! It will be lots of fun to incorporate more ideas into our school year that is coming up!
For the time that this book would save you from having to research on Pinterest, blogs, or the internet I would recommend this book to anyone who has a preschooler, not just to homeschool parents. This book would be a wonderful way for parents to understand what preschoolers need to learn, why, and how to accomplish those goals without spending lots of money.
Stop over to Gryphon House and pick up your own copy of The Homegrown Preschooler: Teaching Your Kids In The Places They Live for only $29.95 
Click the banner below to read what fellow crew members had to say about both of the products the Schoolhouse Review Crew was blessed to review for Gryphon House, The Homegrown Preschooler and Global Art.