Cody is my kiddo that is really into computers, games, tablets, and pretty much anything as far as electronics are concerned. So I figured we would try something different and have him use Time4Learning for his curriculum since it was being offered up for review for the Schoolhouse Review Crew.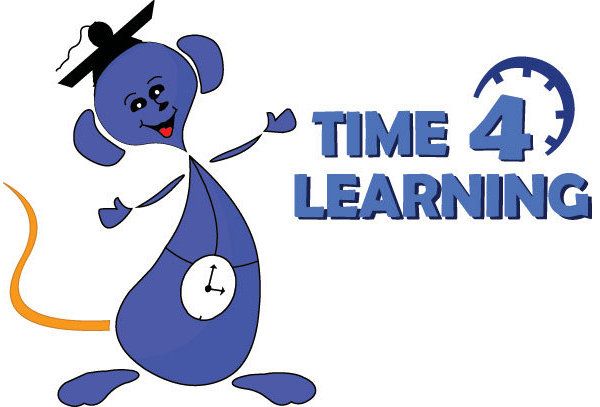 Time4Learning is an online program that offers either homeschool lessons or supplemental lessons for children. Time4Learning offers classes for children in Pre-K all the way up through High School. They use colorful images and let children learn most of their core subjects all while on the computer. The subjects that are covered with Time4Learning are Language Arts, Math, Science, Social Studies, Art, and Reading.
All of the lessons found on Time4Learning correlates with state standards so you don't have to worry about gaps in their learning or worry if your child is getting what is needed each year. They offer in depth lesson plans so that parents/teachers can know exactly what their child/student is doing each day and you can even print the lesson plans to be able to keep them for your records what a great resource for homeschool parents.
You have a couple different options for letting your student work through the program. You can choose to let your student work through the program at their own pace, which is what we did the first couple weeks for Cody. I found that because of how many lessons there is available on Time4Learning it was difficult for Cody to know what he needed to complete each day which is why we have been using and will continue to use the second option…
The second option is to set up a schedule in the parent portal. One word of advice would be to set this up at the beginning even if you don't think you want to use it. Due to the fact that when you go in and set up your plan you can only choose from todays date forward, so if you started a couple weeks before that you cannot enter that date in and will have to figure out what lessons were already completed.
Here is a little bit about each of the subjects available on Time4Learning
Science
Your student will be able to choose from Scientific Process, Electricity and Magnetism, Properties of Matter, Earth Moon & Sun, Human Body, Energy Force and Motion, or Characteristics of Plants. During each of these lessons your student will read through pages pertaining to whatever subject they are learning about, look at pictures on each of the pages, and then have a few questions following the reading. During the reading students will do some hands on experiments to further understand the concept.
The science section offers a list of supplies needed for upcoming experiments so you know ahead of time what will be needed. I will say some of the experiments require some things that were hard for us to accommodate like going to an ice skating rink, so we skipped those science experiments.
Language Arts
They have a Language Arts and a Language Arts Extension section that includes other parts of Language Arts such as Grammar, The Writing Process, Speaking and Listening Skills, and more. The students will go through and complete a lesson which starts with a short video and then goes through some guided learning questions. If your student doesn't understand any of the questions then they can just click for more help for the concept to be explained to them. After the lessons your students will have 2 separate quizzes to complete about the topic. Some lessons also have a practice lesson so that students can get some extra practice for the lesson as well.
Math
The math section offers lessons in Whole Numbers, Operations with Whole Numbers, Graphing, Geometry, Functions and Probability, Measurement, Fractions, and Ratios, Proportions, Percents, and more. Students will watch a video teaching the lessons math concept and then they will complete a couple problems about the concepts. Following the lesson they will complete an Activity Quiz that will test their learned knowledge from the lesson.
Social Studies
Social Studies has many different topics for students to learn about different civilizations, mapping, US History, Economics, Politics, and so many more. The lessons include pictures and slideshows on the topic, had hard to understand words highlighted so students can click on them to find out the meaning of the words, real stories from people about the topic, and more. At the end of the lesson your student will answer questions, make their own maps, copy down important information.
Art Lessons
After you have been a member for a month your student will have access to the Art program offered from Time4Learning. In the art section your student will start by choosing 1 of 16 different art techniques. They will go through 3 different sections in the art lessons See, Say, and Do Art in each of the lessons students will get the opportunity to learn about the given art concept, practice the technique, answer a few questions about it, see real live art that deals with the given techniques, and then try it out themselves. This was a favorite section for Cody and really the other boys who decided to come and watch the art lessons with him 🙂
Extras
Parents don't have to worry about record keeping while using Time4Learning because the program does it all for you! They offer a few different ways you can view the student records, you can generate reports for attendance or grades and they really make it easy for you to get any student information you may need.
As if all that wasn't enough they have a playground area for kids to be able to play games they have lots of different options for students to choose from and even allow parents to set a timer. This is great for those students that would spend a little to much time on the games and not as much on the lessons 😉
What Did We Think Of Time4Learning?
Cody has been using Time4Learning for the last 6 weeks and he has really enjoyed the program. I have enjoyed the fact that he is eager to do school each day and will go through and do all of his classes without me having to remind him to do certain subjects he doesn't enjoy as much. He has even done a more lessons then required some of the days just because he enjoys some of the subjects so much.
I was very pleased with the fact that they not only offer lessons in the grade that your student is currently in but also the grade above and below. This was helpful for Cody by giving him the extra help he needed in some subjects he struggles in while at the same time giving him an extra challenge in the subjects that he excels in.
I was a little blown away at the fact that the 6th grade math curriculum has over 600 lessons for the year which means that there are about 8 lessons that need to be completed each week. This was a lot to expect of a student each day, in my opinion so we choose not to follow the recommended schedule for math and just do 1 lesson each day instead. I will also have to say that while some of the subjects were very visual and really appealing to the kids there are a few subjects that are lots of reading (about 9 pages in 1 subject)  I think if they were to put an option for the page to be read to the child it may be more appealing to the student who doesn't like to read quite so much.
With all that being said I do think that a child should not spend their entire school day in front of a computer as I'm sure Cody might really like, and he will continue to use the program for some of his subjects for the 6 month period of our review but it will not be his FULL curriculum for the year. While the program is well worth the price with all the curriculum and supplements you have access to, the size of our family would prevent us from using the program in the future with all of our children, but we will definitely use it during our review period!
What Is The Cost Of Time4Learning?
$19.95/ month for your first child
$14.95/ month for each additional child
$30/ month for 4 high school courses
$5/ month for any additional courses
The program comes with a 2 week money-back guarantee.
Click the banner below to head over and read other crew member reviews of Time4Learning, we were given lots of different levels for review!